Spincast reels are ideal for beginner fishermen due to their ease of use. They are free from backlash and reduce the chances of your line getting snared or twisted. They are also cheaper than spinning and baitcasting reels. However, the downsides are shorter casting distances and low line capacity.
A spincast reel features a closed face with all the important parts kept below a nose cone. They can be used in both saltwater and freshwater. You would be glad to find that most manufacturers produce high end, high quality spincast reels nowadays that fit your budget.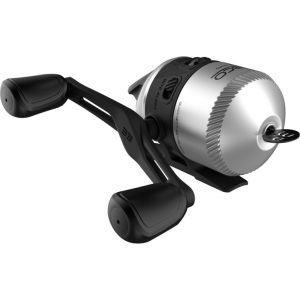 What to Look For In Your Spincast Fishing Reels
1. Bearings
You need to check the bearings of your device so that you can pull the line in and out of the reel easily. Ceramic bearings are known for their corrosion resistance and smoothness. They are immune to rust and reduce friction to a large extent. However, their price is on the higher side. Stainless steel is cheaper, more common than and almost as effective as ceramic. Your spincast reel usually comes with 4-7 bearings that are quite fine to work with. Anything less than that can be detrimental to your line retrieval.
2. Ease of Use
Most spincast reels have a push-button design that is very easy to operate. They feature a button behind the reel that can be pushed for releasing the line for casting. Boasting of a nearly flawless system, these reels suit beginners. Others have an underspin release where there is a trigger or lever in front for release. Many anglers find them easier to use. That they allow the reel to be mounted under the rod improves their casting abilities.
3. Pickup Systems
They are the small internal mechanisms that make the reel hook on to the line and pull it back into the housing. They are important since if they fail to hook the line, you lose your line along with the bait. A majority of spincast reels use a two or three-point pickup. The more, the better, but 3 pickup points are enough. If you buy a quality reel, there are fewer chances of your pickup points slipping. Still, read the specifications carefully to check what the manufacturer is offering to improve the performance of the pickup systems. Cheap models are likely to have major problems with their pickup.
4. Drag
It is the pressure that is put on the line when anything (fish, seaweed, rock) pulls on it. Controlling it is critical for preventing the fish from running off with your line or snapping it under pressure. Your target species would decide the drag power of your spincast reel. Too much drag could damage your line, while too little of it could lead to loss of fish. Almost all spincast reels use a disc friction mechanism to generate the required drag, where you need to just spin a dial to adjust the drag.
5. Line Capacity
Spincast reels usually have less line capacity than spinning or baitcasting reels of the same size. It's hard to find one that can hold more than 150 yards of line. Overfilling them compromises with their casting ability. However, most moderately sized fish can be targeted with reels that have their highest capacities for the line you would be using. The best fishing line for spin casting reels is monofilament and most don't work with braided lines.
6. Gear Ratio
Defined as how much line is retrieved per handle turn, the gear ratio plays an important role in the smoothness of the retrieve and gear performance. A gear ratio too low will prevent lures from attaining the desired action. A very high gear ratio could rip your lures from the strike zone before a hit can be made. A gear ratio in the range of 2.5:1 – 4.5:1 would be good. However, you need to check which gear ratio best suits your fishing technique and lures.
7. Size and Weight
Smaller sizes of spincast reels are handy as they don't take up much space and don't get tangled up with other fishing gear in your tackle box. However, many believe that the mini and micro spin casting reels are for kids. If that is the case, go for larger ones, but do remember that if you are out ultra-light or bass fishing, your reels need to be lightweight. There are big models made of aluminum and aluminum graphite mix that are considerably lightweight yet strong. Spincast reels of yesteryears were typically heavy since they were meant for use while dropping the rod from the side of the boat and waiting for the fish to bite.
5 of the Best Spincast Reels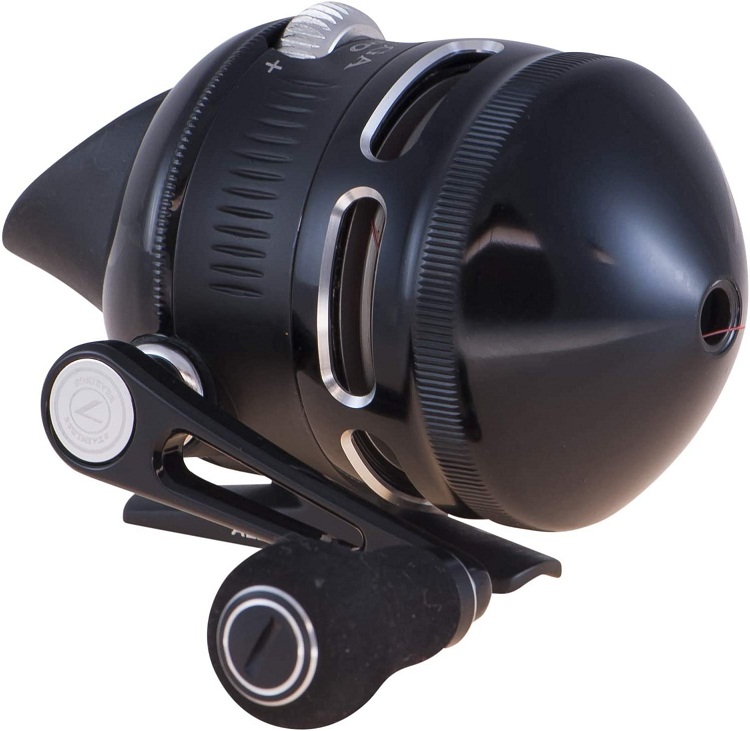 Zebco Omega Pro Spincast Reel
Pros:
7 stainless steel bearings prevent tangles and snags. The interchangeable handle allows ambidextrous usage. Heavy-duty aluminum covers its all-metal gear machines, oscillating spool and ceramic line guide. Boasts of a generous drag.
Cons:
The thin handle covering could wear out with use. Some users have also complained about the handle coming loose after some time.
Final Word:
Go for it for its ease of use. You need to just pair it with your rod, attach the lure and you are all set.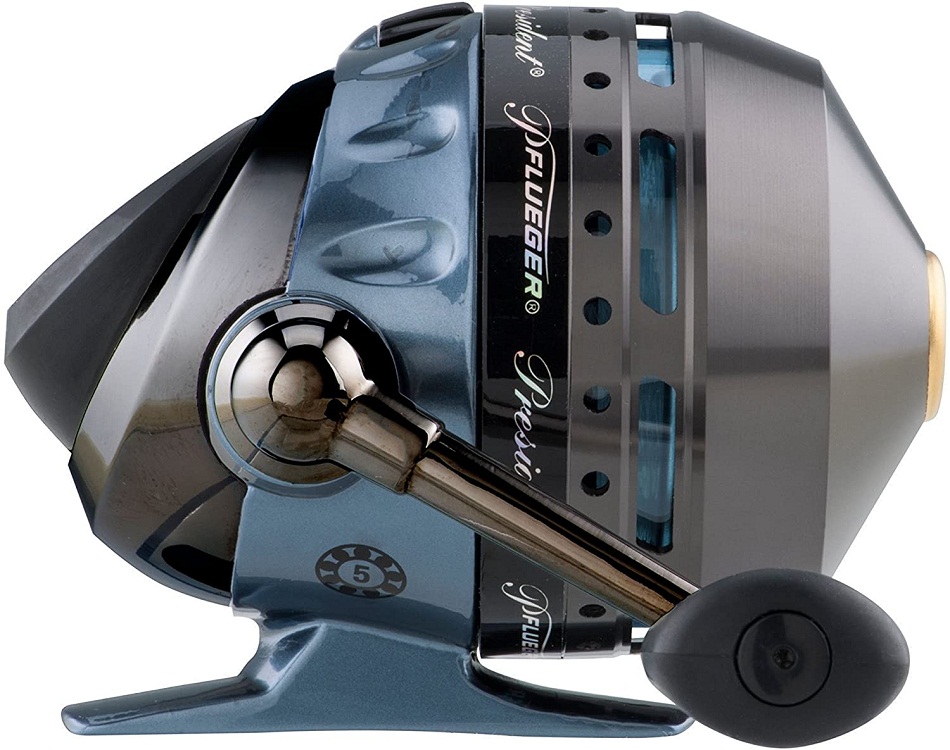 Pflueger President Spincast Fishing Reel
Pros:
Solid, durable aluminum make. The titanium take-up pinsare corrosion-proof. The push-button gifts you a beautiful casting every time. Has enough line capacity. Uses a multi-stop and anti-reverse system for easy retrieval.
Cons:
Pairing it with a rod can be a bit of a challenge since the cover is too big, leaving little gap between it and the seat.
Final Word:
Choose this one if smoothness of operation is your priority.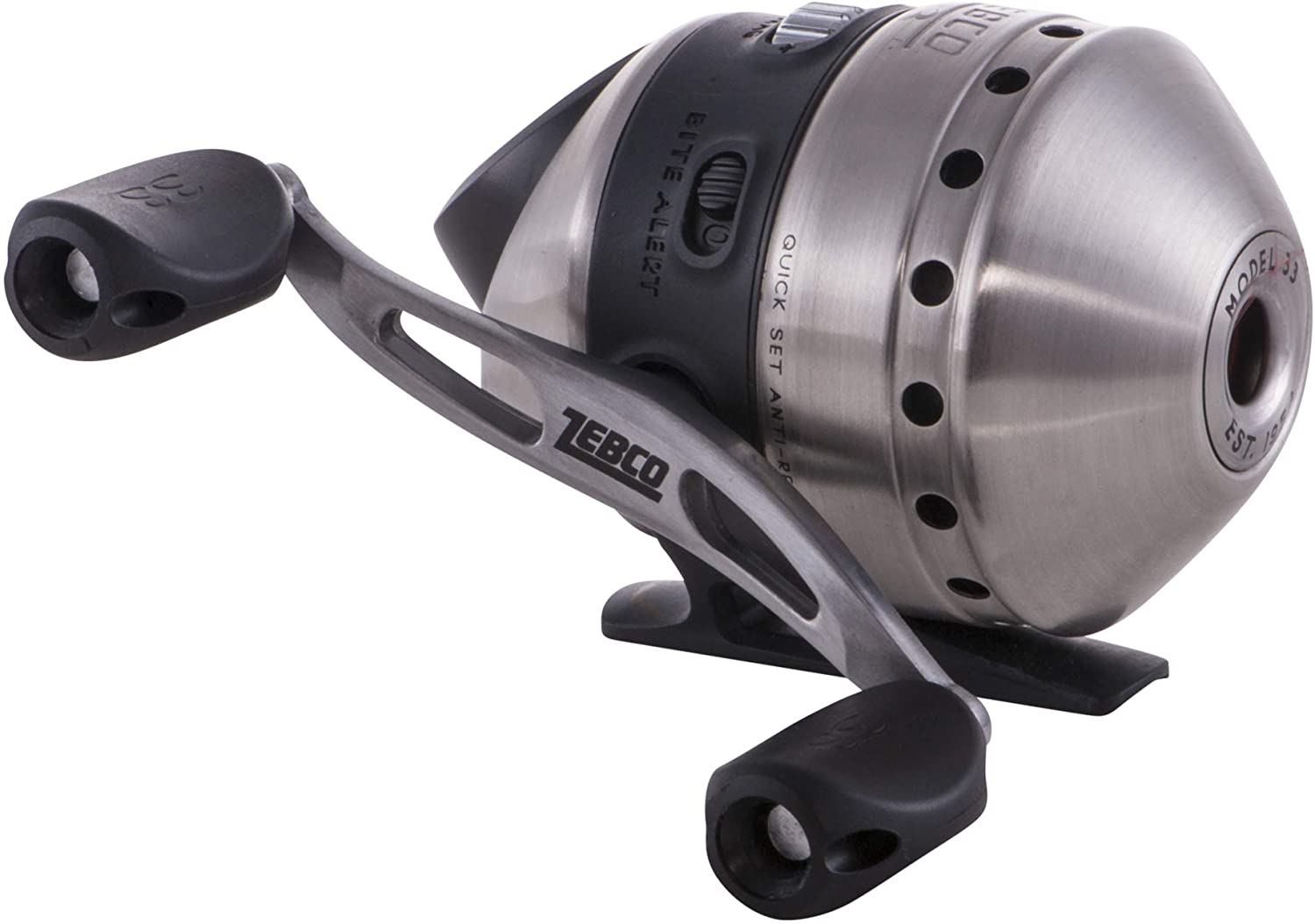 Zebco Authentic Spincast Fishing Reel
Pros:
Stainless steel cover protects the reel from corrosion. Ceramic take-up pins last long. The strongly built model is dependable, allowing you to retrieve your catch at a good rate. Has a generous line capacity.
Cons:
Suffers from minor drag issues. There is room for improving its smoothness.
Final Word:
If you have a tight budget, you can go for this moderately smooth model that doesn't have much to boast about regarding its craftsmanship, material and technology.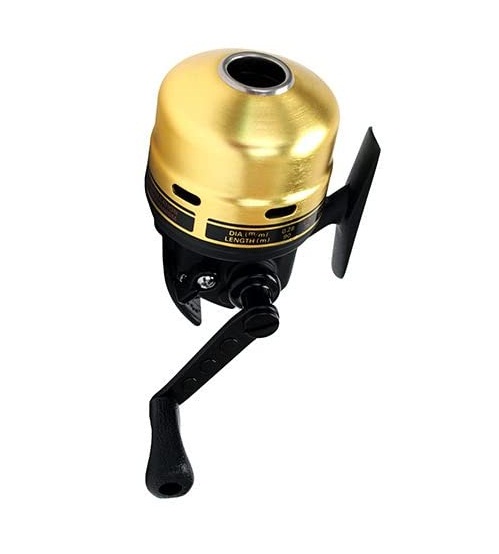 Daiwa Goldcast Spincast Reel, GC100
Pros:
Oscillating spool helps in loading the line without jams and kinks. 4.1:1 gear ratio. Good looks. Durable all-metal build.
Cons:
Heavier than its competitors. Gives off a loud clicking noise during line retrieval.
Final Word:
This is an affordable and dependable all-time favorite option for anglers at all levels.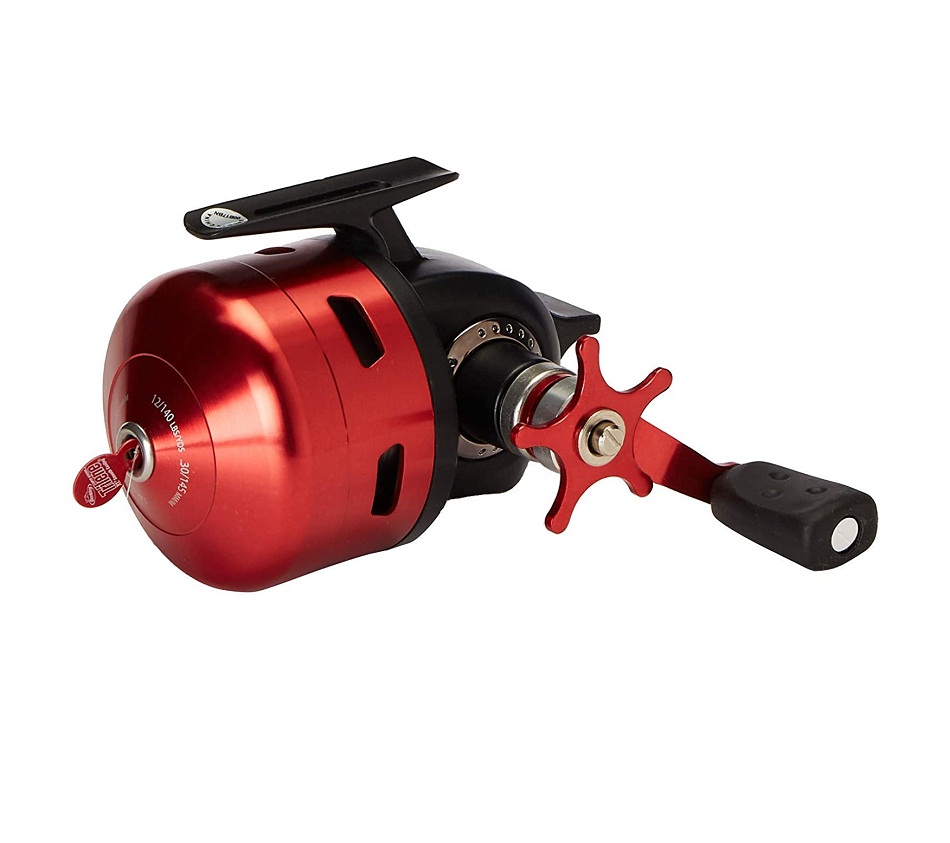 Abu Garcia Abumatic 170 Spincast
Pros:
Small and lightweight reel has a classic functionality that is packaged in a modern look. The drag setting is easily adjusted by a wheel located beside the crank keeping accidental activations to a minimum. 3 ball bearing setup includes anti-reverse. 3.9:1 gear ratio strikes a perfect balance of power and speed.
Cons:
Some people find the side-mounted drag adjustment a bit difficult to operate than the top-mounted ones.
Final Word:
This moderately priced, compact model has proved to be reliable in catching big as well as small fish.
For using the device, the fishing line is introduced through a hole in the cover of the reel. Most designs have a button at the back that is pressed for shooting the line forward while casting. You can stop the line by letting go of the button.
The best spincast reels help you land fishes like trout, bluegill, panfish and walleye with ease. They are value for the money for their ability to land big catfish. Apart from conventional fishing, they can also be used for bowfishing.