A braided fishing line has several fibers of Spectra, nylon, Dyneema or Dacron woven together to make a thin line having a circular cross-section. It is widely used for deepwater fishing, saltwater game fishing and offshore trolling of big kingfisher, tuna, sharks, swordfish and marlin. It is also used for deep dropping and precision jigging.
Features of Braided Line
Memory – Braided line has no memory that allows it to flow freely without kinking.
Stretch – Since braid does not have any stretch, it is sensitive to even the lightest strikes and enhances lure movement.
Shock Strength – Less stretch means braided lines generally have low shock strength and run the risk of getting snapped by sudden pressure.
Abrasion Resistance – Braids usually have decent abrasion resistance that prevents them from getting cut by rocks.
Buoyancy – Though braid sinks faster than mono, modern braided lines made of Dyneema and Spectra float since they have water repellant properties.
Visibility – High visibility of the line could spook wary fish.
Top Braided Fishing Lines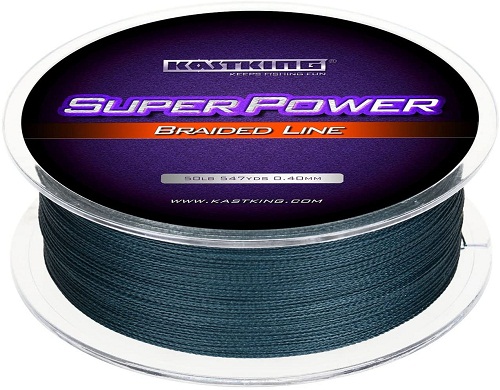 KastKing SuperPower Braided Fishing Line – The Best Value All-rounder Braided Line
This pocket-friendly braid boasts of excellent abrasion resistance and sensitivity. The small diameter of the line saves it from knot failures. It offers superior hook setting and lure swimming action. However, you might have issues spotting this line while fishing due to its thinness.
Specifications :
Test: 10–150 pounds
Diameter: 0.40 mm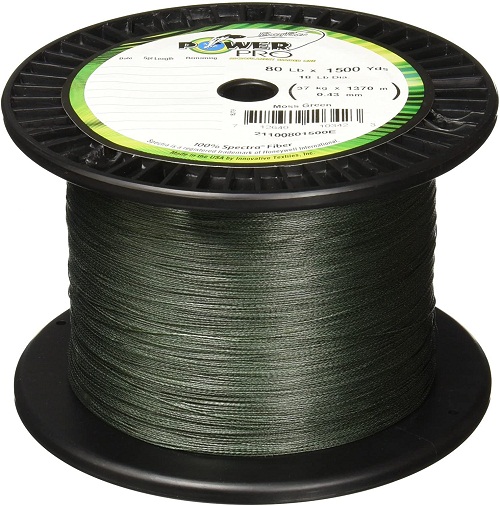 Power Pro Spectra Fiber Braided Fishing Line– Best Braided Line for Baitcaster and Longer Casts
This braided line is known for its extreme strength, sensitivity and durability. The Spectra fiber used in making it allows instant attachment to hook sets. It comes with a built-in cutter that helps in setting up fishing lines easily. The high breaking strength of the material makes it easy to land big walleye, bass and trout. The small line diameter lends more action to lures. Difficulty in untangling in case of backlashes is a downside.
Specifications :
Test: 50 pound
Diameter: 0.43 mm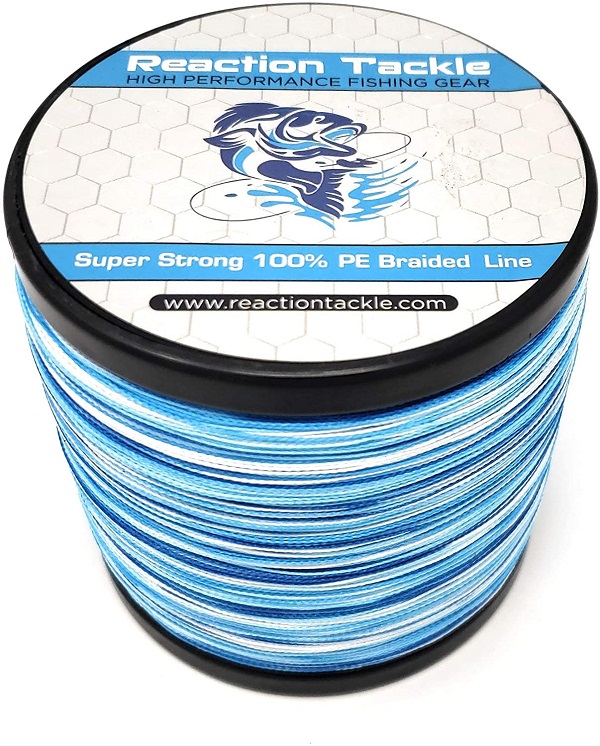 Reaction Tackle Braided Fishing Line
This high-quality product is made of UHMWPE material that has zero stretch and high sensitivity.  Good abrasion resistance, durability and availability in a range of colors, lengths and strengths are other plus points of this line. However, its extra-smooth texture makes it a little difficult to tie knots.
Specifications :
Test: 10-200 pounds
Diameter: 0.14-0.8 mm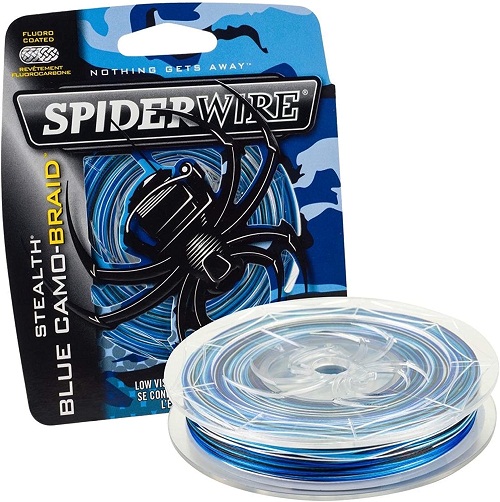 Spider Wire Stealth Superline Fishing Line– Braided Line with the Best Durability and Breaking Strength
This is an extremely thin and smooth line that enjoys a higher strength rating than other standard braids. The Dyneema PE microfiber composition makes it durable. The makers have used advanced color-lock coating technology to maintain its brightness though it has low visibility underwater. However, many anglers find it to be too stiff and tough to cut.
Specifications :
Test: 6-100 pounds
Diameter: Not specified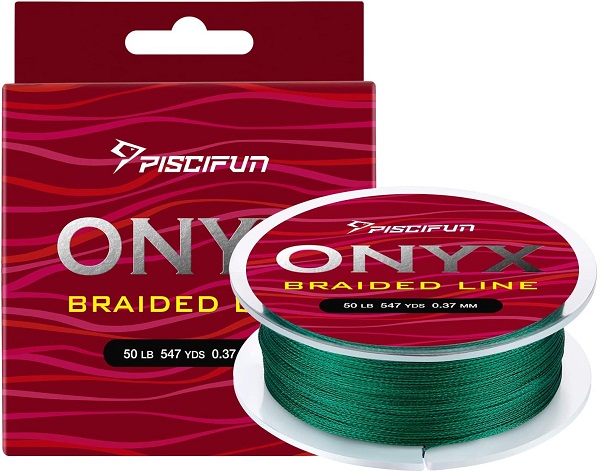 Piscifun Onyx Braided Fishing Line– Best Braided Line for Saltwater
The high tensile strength of this line makes it a favorite with beginners. It features excellent abrasion resistance making it fit for use in both saltwater and freshwater. There are 7 color options for you to choose from that don't fade easily. Minimal line memory and line twists are other pros. However, it can sometimes make a lot of noise while running on reels damaging guides on cheaper rods.
Specifications :
Test: 6-150 pounds
Diameter: 0.37 mm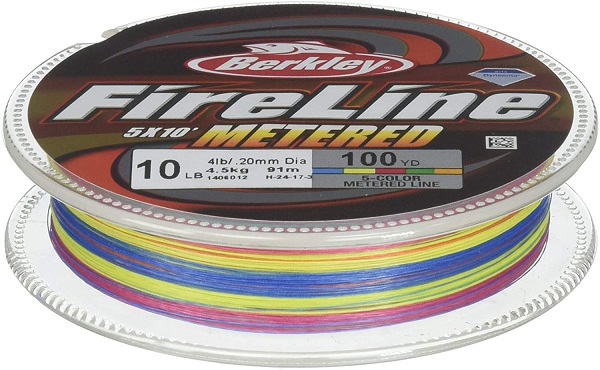 Berkley FireLine Superline Fishing Line – Best Braided Line for Spinning Reels
If you want your line to be visible enough to be tracked underwater, you can go with this line that reflects a unique tracer color when you cast it. But be warned that it can scare away catch. The super small diameter makes this durable, sensitive and abrasion-resistant line suitable for spinning reels. Zero stretch, excellent knot strength and flexibility are other plus points.
Specifications :
Test – 30 pounds
Diameter – 0.015"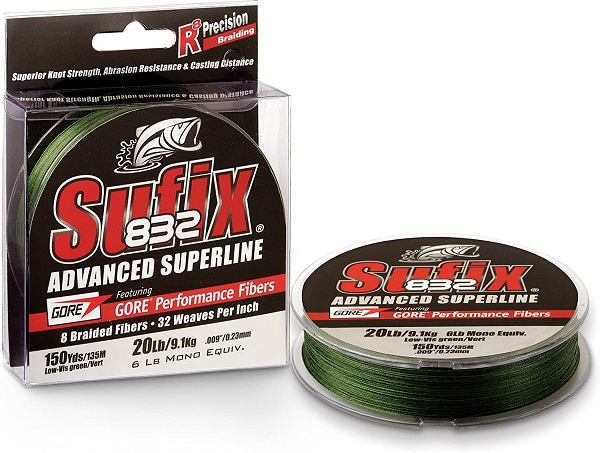 Sufix 832 Advanced Superline Braid– Best Castability
This line boasts of a high tensile strength, toughness, abrasion resistance and durability. It comes with proven castability enhancements. The water-resistant braid doesn't suffer from any color fading issue. You can choose the line from 5 different color options. The Dyneema make prevents the line from fraying. A high price tag and visibility in dark waters are its downsides.
Specifications :
Test – 6-80 pounds
Diameter – 0.23 mm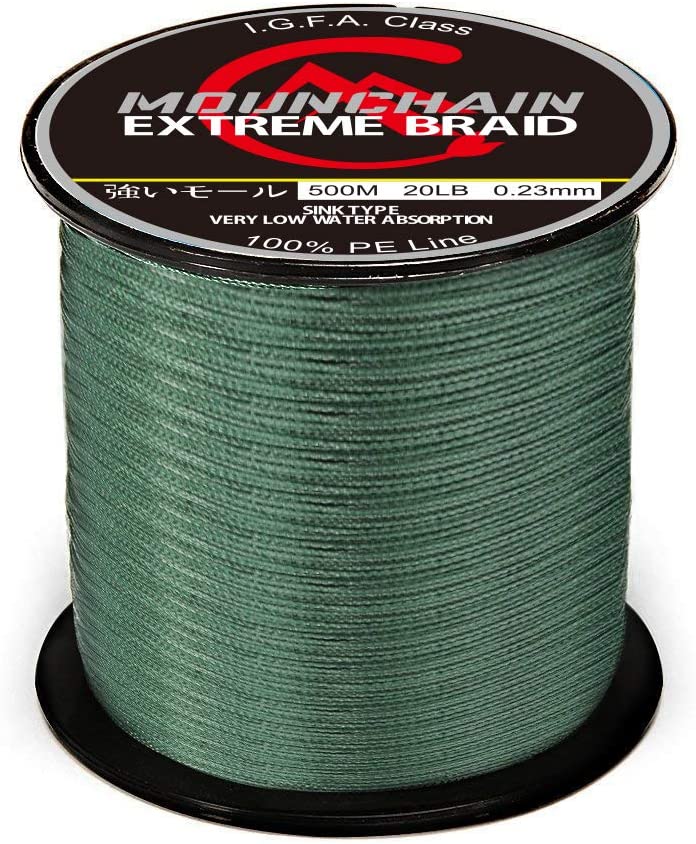 Mounchain 100% PE Braided Fishing Line
Use of a unique long-lasting color coating technology prevents color fading and increases UV resistance. The smooth line easily passes through rod guides, improving casting experience. The super-sensitive line suits freshwater, saltwater, surf, ice and bow fishing for bass, walleye, trout, muskie or other species. Its good abrasion resistance allows you to fish around rocks and cliffs. Still, this is not counted as a high-quality line.
Specifications :
Test – 10-40 pounds
Diameter – 0.23 mm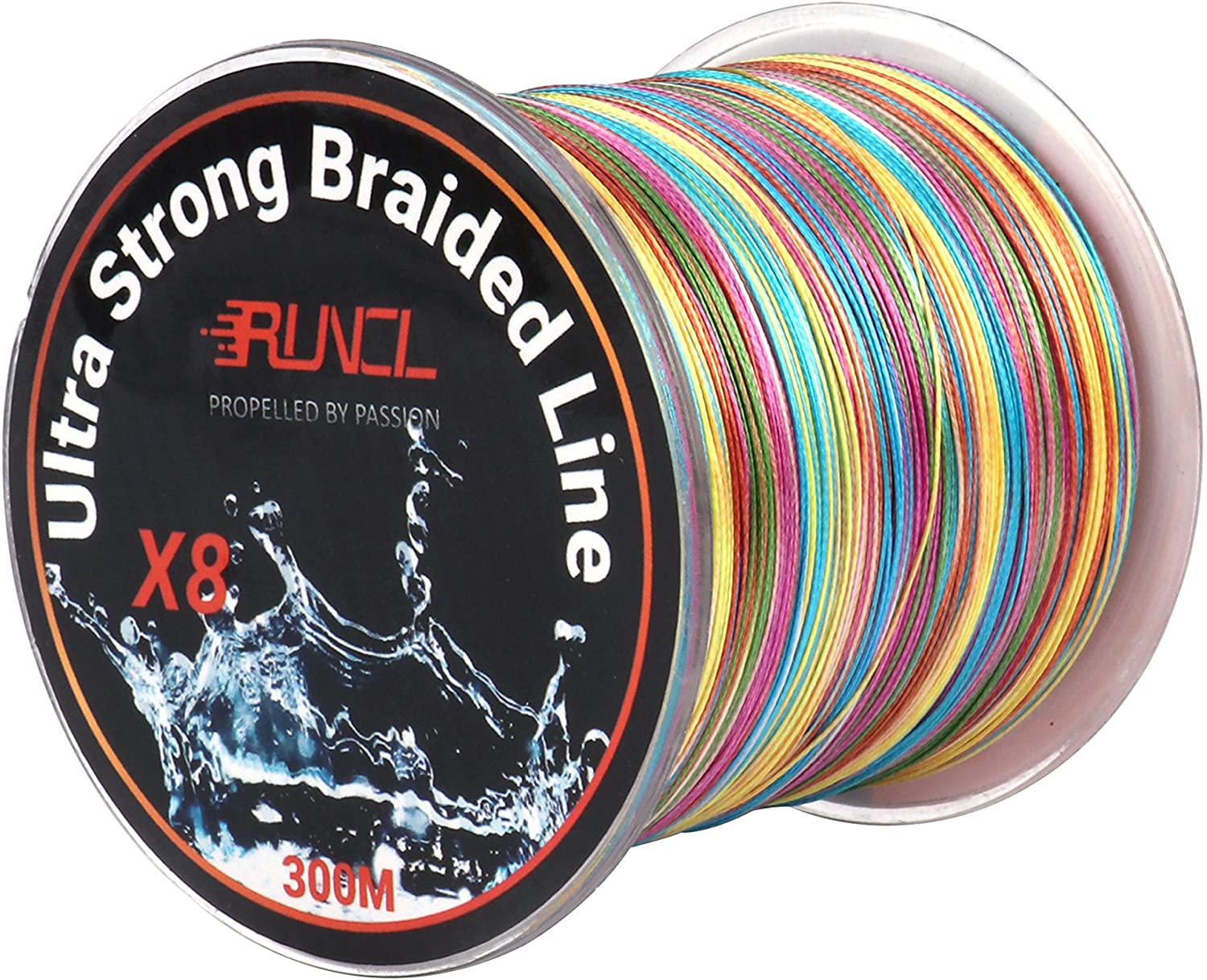 RUNCL Braided Fishing Line
Knots can be tied really strong in this durable, high-quality braided line. The zero stretch factor ensures that you can feel even the slightest nibbles of fish. The smaller diameter allows you to pack more line in your spool. The 8 strands of the line are woven tightly to resist wear and abrasion. On the flip side, some users have complained that the line does not have the rated strength as depicted on the label.
Specifications :
Test – 12-100 pounds
Diameter – Not specified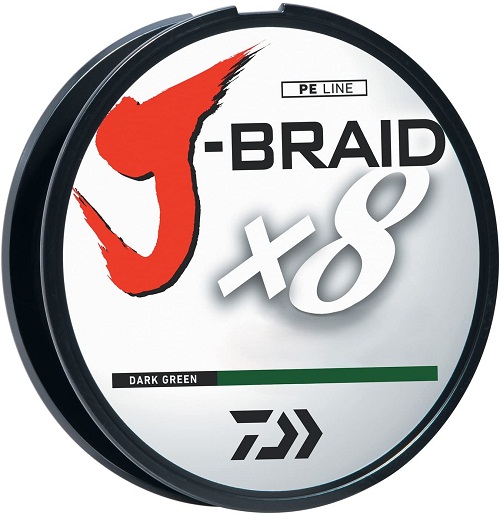 Daiwa J-Braid 8-Strand Braid Line
Fishermen favor this line for its long casts with low knot failures. The PE material has ample abrasion resistance and tensile strength to suit all types of fishing activities. That it is tough, supple, low maintenance and durable outshines its noisy nature while reeling in big catch.
Specifications :
Test – 6-80 pounds
Diameter – 0.20 mm
FAQs