Monofilament lines are single-strand fishing lines made of nylon that enjoy huge popularity with anglers worldwide for its ease of use and low price. They can hold knots really well and cast with exceptional smoothness. Mono is a favorite for catching native species like trout, flathead, tuna, kingfish, snapper and salmon while fishing inshore, from a pier or in freshwater.
Features of Mono Fishing Line
Memory – Mono has low line memory that makes it less prone to tangles and kinks when you reel it in.
Stretch – A super stretchy line like mono can keep the tension in the line even when you are handling big fish. It can also neutralize the effect of violent head shakes.
Shock Strength – Its good shock strength prevents mono lines from giving way under sudden pressure from hard-hitting fish.
Abrasion Resistance – Mono has decent abrasion resistance that resists it from being cut off by rocks and other objects as you fish.
Buoyancy –Mono is a highly buoyant line that performs well while topwater fishing.
Visibility – Clear mono lines are virtually invisible to fish, while the colored ones can match the depth at which you will be fishing, aiding visibility.
Best Mono Fishing Line
Top Pick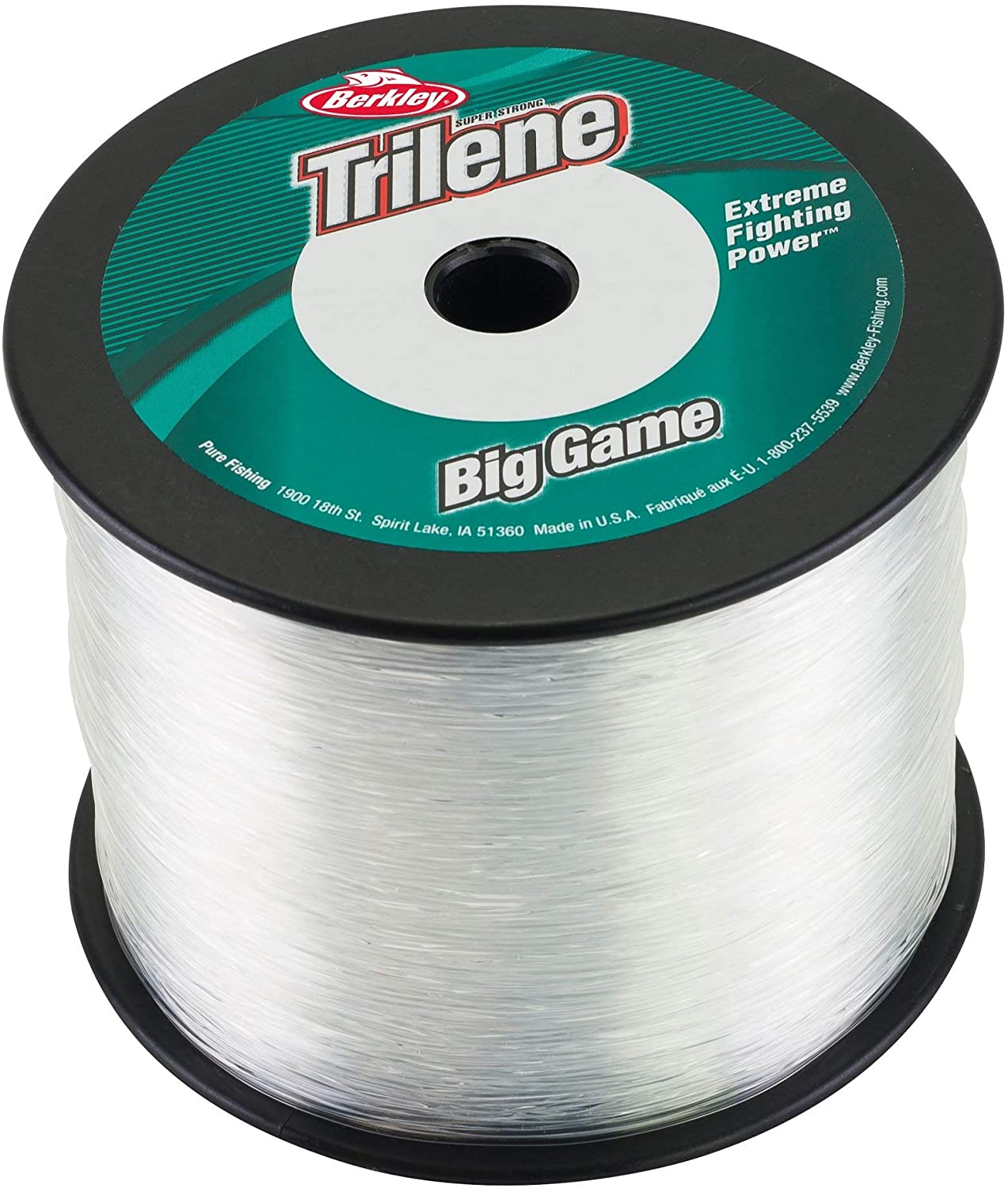 Berkley Trilene Big Game Monofilament Fishing Line – The Best Monofilament Line for Large Fish
High strength of the line facilitates better control, versatility and reliability – things that help you in landing big fish both in saltwater and freshwater. First-class shock and abrasion resistance come as a plus. Superior smoothness ensures that you can cast far without having to worry about line twists and tangles. However, it suffers from a lot of line memory that calls for replacement every few fishing trips. The low cost makes up for that, though.
Specifications :
Test: 10-50 pounds
Diameter: 0.012"-0.28"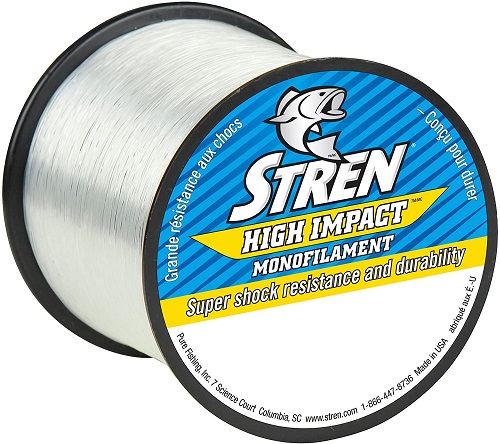 Stren High Impact Monofilament Fishing Line – Best Mono Line for Baitcaster
This is by far the best line if you are after hard-hitting saltwater fish using a baitcaster. Made with one of the sturdiest varieties of nylon, this line boasts of superior shock resistance and strength that makes it ideal for big catch and fish that can put up a big fight. Low visibility, durability and availability in various strengths, colors and sizes add to its benefits. However, it has some memory that makes it prone to tangles and twists.
Specifications :
Test: 30 pound
Diameter: 0.33 mm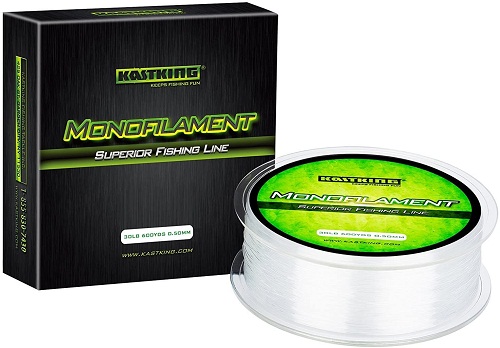 KastKing World's Premium Monofilament Fishing Line – Best Mono for Fishing in Saltwater
Durability, thinness, zero memory, abrasion resistance and toughness. This line ticks all these boxes. Low water absorption allowing easy line retrieval and the fact that it doesn't dig into the reel comes as a bonus. If you want to try out different fishing techniques, go for this one. On the flip side, the line's high visibility can scare away fish and you might find it to be too stretchy at times.
Specifications :
Test: 4-30 pounds
Diameter: 0.2-0.5 mm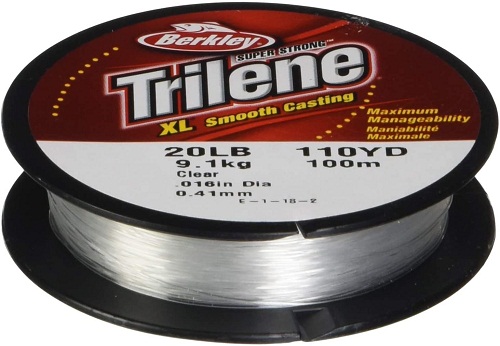 Berkley Trilene XL Monofilament Fishing Line – Best Mono Line for Spinning Reels
This mono line scores with its smooth casts, long casting distances, superior abrasion resistance, low memory and enhanced sensitivity. It comes in a variety of colors, strengths and line capacities to fit your needs. Suited to both freshwater and saltwater, you are likely to find this widely popular line out of stock, in most cases.
Specifications :
Test: 20 pounds
Diameter: 0.41 mm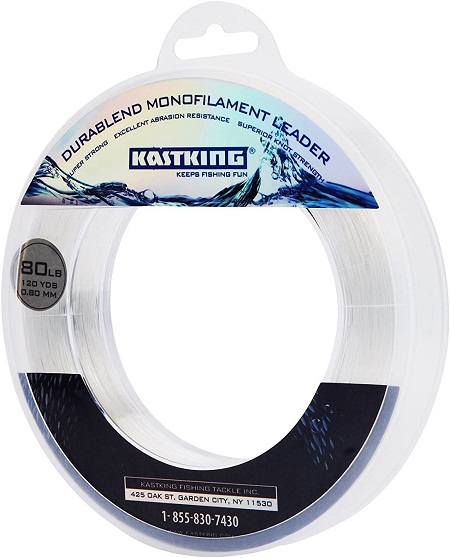 KastKing DuraBlend Monofilament Leader Line – Bost Mono Leader Line
This is a line that is hard to beat when you speak of sensitivity in a long-lasting mono line. The high-density nylon make lends it excellent abrasion resistance. That it doesn't bend, twist or stretch without compromising on castability and smoothness is definitely a plus. With this line, you can be sure of strong, precise knots that won't fail. High visibility is its downside, though it might be helpful with anglers who want to see their lines well and don't go by the 'feel' of the fish.
Specifications :
Test: 80 pounds
Diameter: 0.80 mm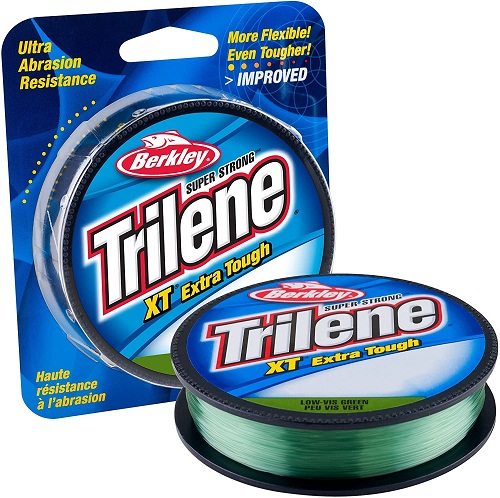 Berkley Trilene XT Monofilament Fishing Line
The high flexibility, abrasion resistance and knot strength make this line a favorite for fishing in rough conditions. It excels in flipping, casting and pitching due to its manageability. Its inherent strength makes it ideal for fighting fish under heavy cover. High memory and price are its flip sides.
Specifications :
Test: 4-30 pounds
Diameter: 0.012"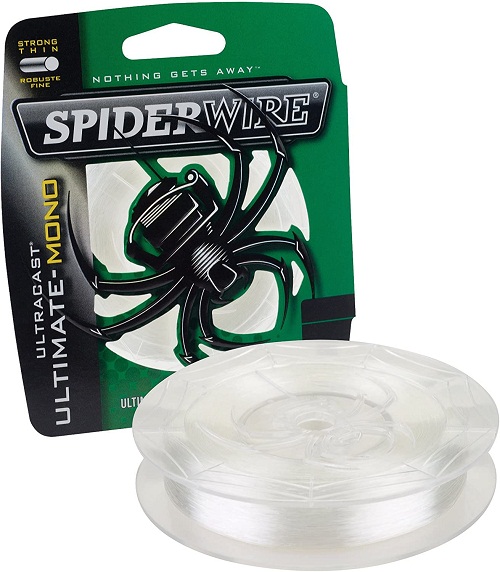 Spider Wire Ultra cast Monofilament Fishing Line
The super-thin profile of this line makes it score with its low visibility. The powerful mono can stretch up to only 15%, making it sensitive and helps you with your bait action and hook setting. Though it is designed for baitcast reels, you can use it with spinning reels as well. On the flip side, you can expect a lot of backlashes with this high memory line.
Specifications :
Test: 8-20 pounds
Diameter: Not specified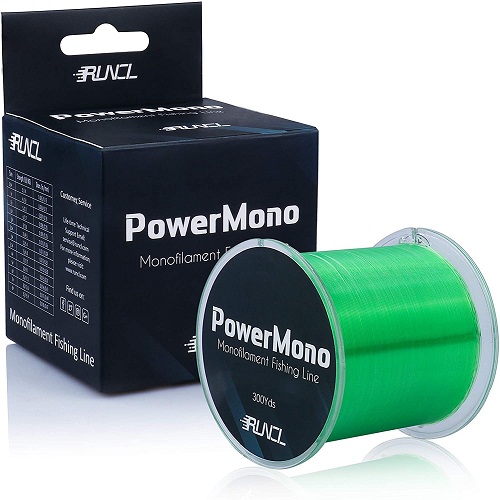 RUNCL Power Mono Monofilament Fishing Line
This line is available in a variety of colors that help with visibility. A larger diameter makes it suitable for larger fish. A good stretch allows it to perform well with sudden, aggressive strikes. Though this comes with a low price tag, the packaging has been found to be cheap.
Specifications :
Test: 3-35 pounds
Diameter: Not specified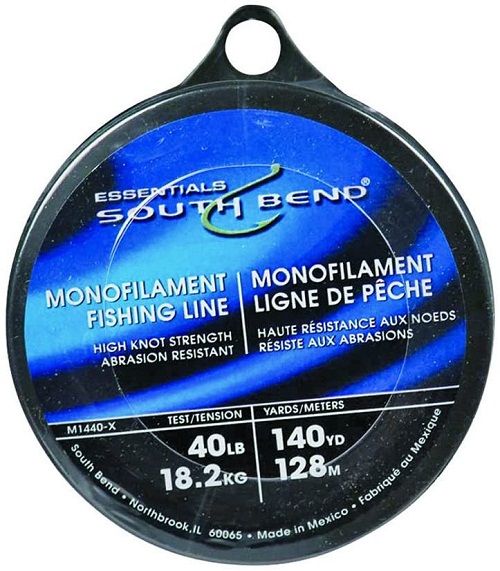 South Bend Monofilament
The clear color of the line helps with visibility. You can tie any lure to it thanks to its excellent knot strength. This would be your go-to line if you want to cast it into rocky areas since you can be sure it won't snap due to its high abrasion resistance. However, if you are using this, be warned that it contains lead, the quantity of which is not mentioned on the label.
Specifications :
Test: 40 pounds
Diameter: Not specified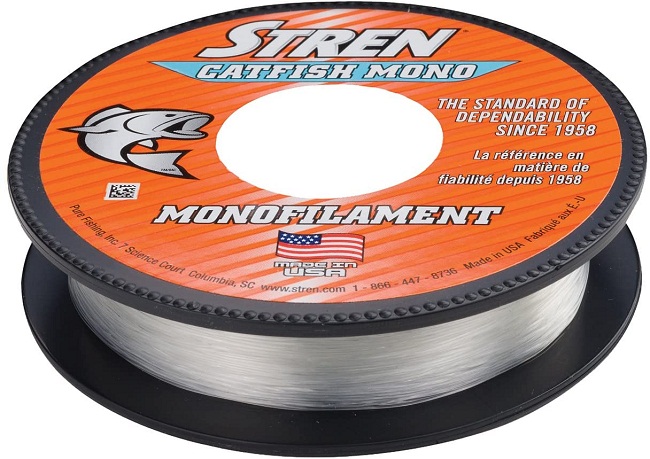 Stren Catfish Monofilament Fishing Line – Best Mono for Catfish
The fluorescent line is designed for the huge amount of struggle that catfish can put up. That it glows in both daylight and night improves visibility. High abrasion resistance and durability come as a bonus. High line memory and inability to cope with spinning reels are its downsides.
Specifications :
Test: 40 pounds
Diameter: 0.55 mm
FAQs