Before heading out for ice fishing, it is a good idea to stock up your tackle box with good lures that are suited for the chilly conditions. Apart from equipping you with the option of getting a variety of fish, they also make you ready with spares if any one breaks. However, with a plethora of options such as spoons and jigs available, it is easy to get spoilt for choice. This article would act as a guide to help you choose the perfect lure for your ice fishing needs.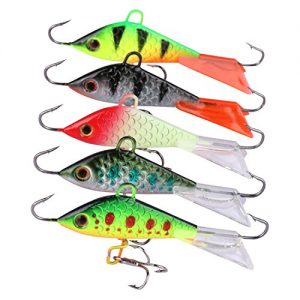 Things to Look Out For In Your Ice Fishing Lures
Type
1. Swimming lures, also known as horizontal jigs, sink fast and align themselves horizontally underwater. Suited for fishing at greater depths, these present you with the opportunity to try the pounding technique.
2. The vertical jigs set themselves up vertically in water with the hook eye usually taking the topmost position. They work best with the lift fall system and you can also use their rattle version to land your catch.
3. Airplane jigs have fins at their ends resembling the wings of an airplane. Hence the name. When you tug the line, they spin in half a circle, attracting fish.
4. Spoons come in various shapes and sizes and can be flat or slightly concave. When dropped in a water column, they produce a vibration that gives the effect of dying or fleeing baitfish.
Color
Primary colors work best when fishing in transparent waters. Bright and luminescent colors get the job done in murky waters. These colors are also effective for gloomy weather and dense snow pack. Keep in mind that the color of the lures above water is not the same when they are immersed in water. The colors also change with depth. The colors and movements play a key role in attraction. It is important as ice fishermen stay stationary, anchored to a point, while fishing.
Durability
Most ice fishing lures are designed to work in harsh conditions. However, if you are fishing in saltwater, remember that it can corrode your lures, lessening its lifespan. A good idea would be to use lures that come with a plastic coating that is water-resistant. A metal coating also has anti-corrosive properties. Their attractive looks and light refracting properties that make them easily noticeable underwater are added advantages.
Ease of Use
The shape of the lure has a significant impact on the ease of use. For example, some of them are shaped like drops. This design gets a good distance and depth when you toss the line. Glow in the dark designs, on the other hand, do the heavy lifting for you and are great for novice anglers. Those that have a sturdy build display more balance making the movements more life-like.
Material
Nickel coated ones are a good choice for their anti-corrosive properties. They dominate the saltwater ice fishing scene as they can withstand the increased degradation that the water entails. Plastic, though pocket friendly, harms the environment. If you really have to go for it, you can choose the recyclable variety that keeps pollution to the minimum. Though the ones with lead sink fast, their potential ill effects on the environment should be taken into account.
What Type of Fish You Want To Catch
Walleye is the most common fish that you would get under the ice. It is fast and can put up a big fight. So strong lures are the best bet for them. The same goes for Northern pike and eelpout. But if it's the tullibee and yellow perch that you are after, you don't need lures that strong.
5 Of the Best Ice Fishing Lures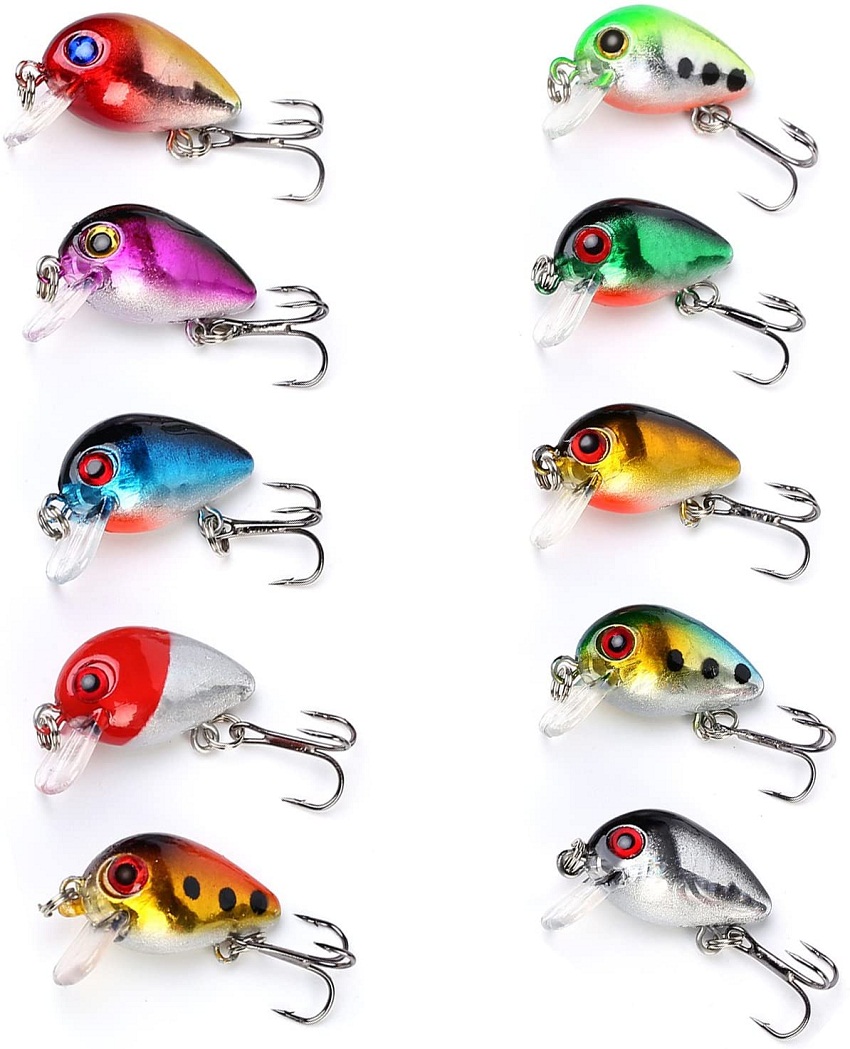 Sougayilang Fishing Lures
Pros:
Vivid colors. Realistic swimming action. Made from recyclable and durable ABS plastic.
Cons:
The metal component tends to rust within some time. They need to be reeled at a specific speed to make them act like crankbaits.
Final Word:
Has been touted as an excellent catching tool by many anglers.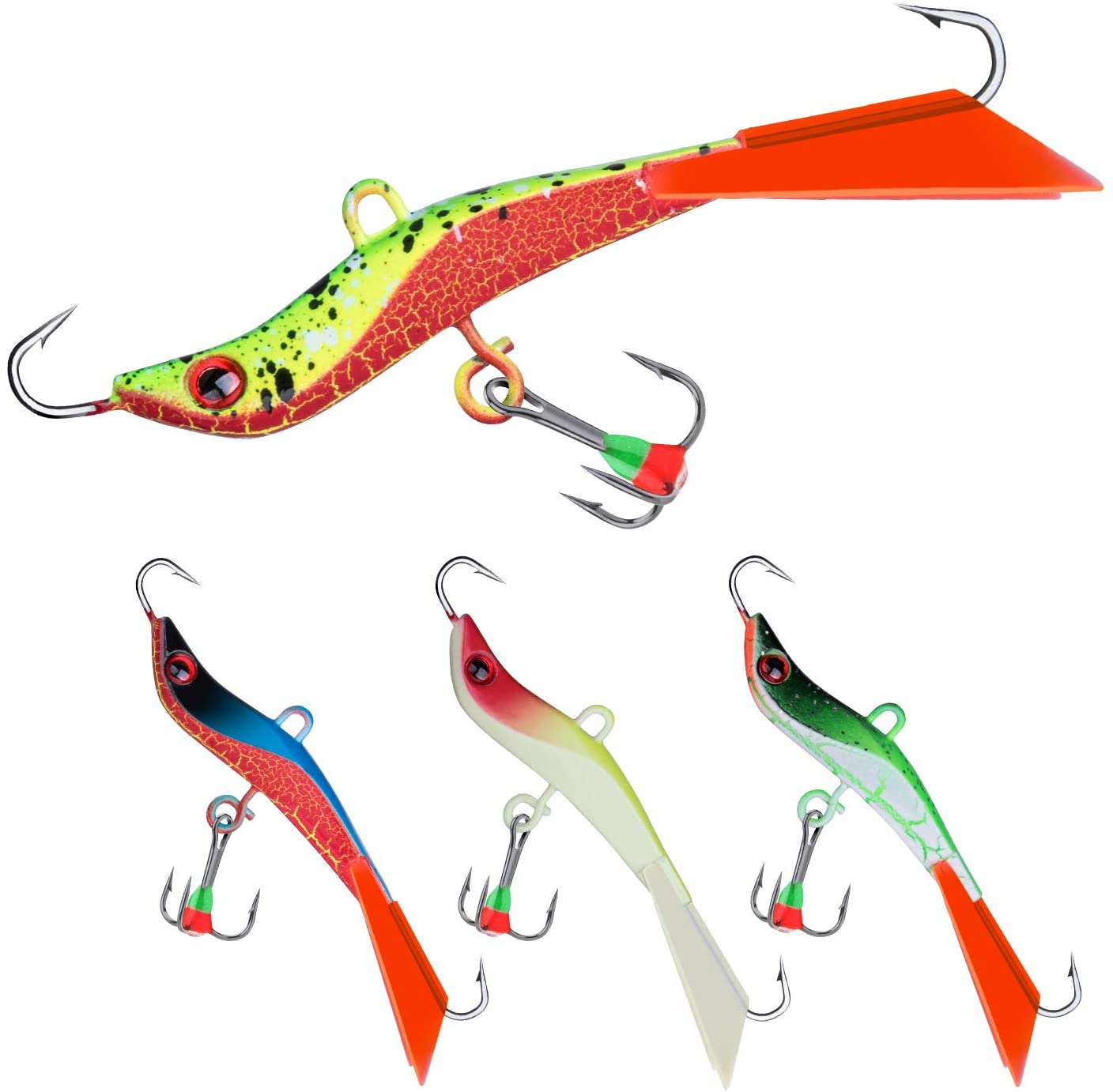 Goture Ice Fishing Jigs
Pros:
Nice design with attention to detail. Hooks on the head and tail to prevent escape. Come in vivid colors that reflect light. Durable.
Cons:
Being hard bodied they don't provide as much flexibility as their soft bodied competitors. The large size makes them difficult to work with at times.
Final Word:
Their good design and build offer you value for money by doing a good job of attracting walleyes, crappies and perch.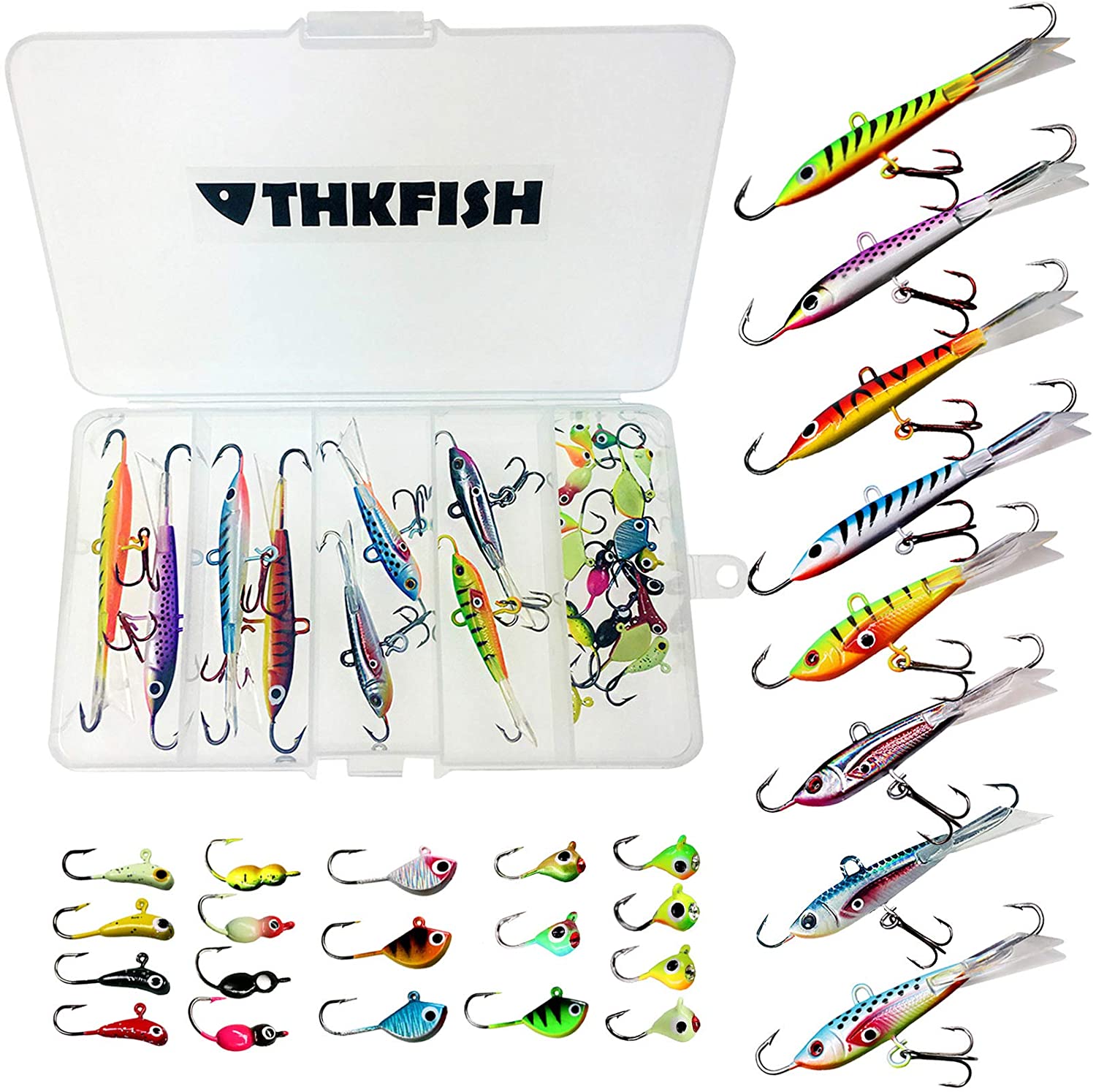 THKFISH Ice Fishing Lures
Pros:
Excellent lures for walleyes. The product boasts of 26 pieces of lures in various sizes and shapes. Natural looking bodies with vibrant patterns. Great customer service by the brand.
Cons:
Some of the lures have been complained to have broken fins. Lead composition. Low quality control.
Final Word:
If you take interest in fishing in different environments and like to catch various types of fish, this one is for you.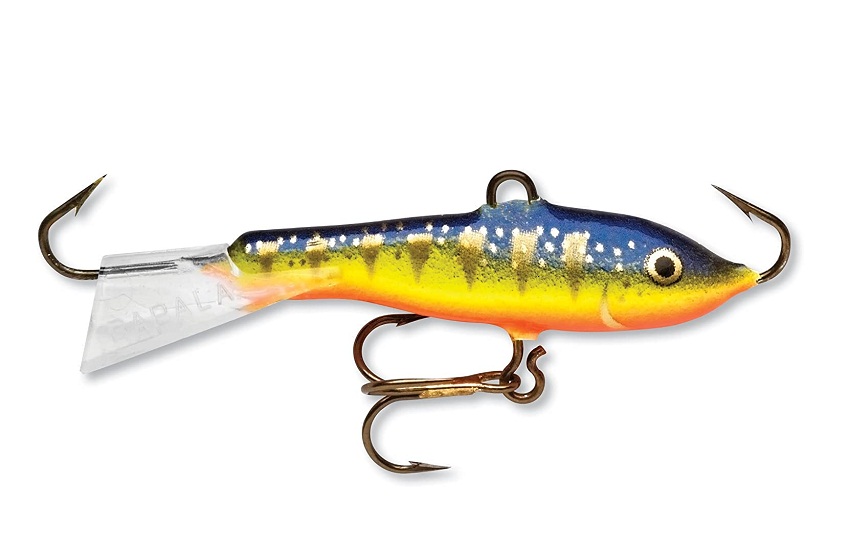 Rapala Jigging Rap 07 Fishing Lure
Pros:
The hooks work well. Boasts of a balanced, minnow-like appearance that is zinc weighted. Can be bottom bounced with unmatchable results. Natural glow colors and availability of a wide array of sizes.
Cons:
Some customers have complained of receiving a different color and size than the one chosen. Mostly made of lead.
Final Word:
Anglers find it a reliable fishing tool to outshine their competitors. Ideal for catching walleye, pike, whitefish, salmon, trout and bass using vertical jigging and running depth techniques.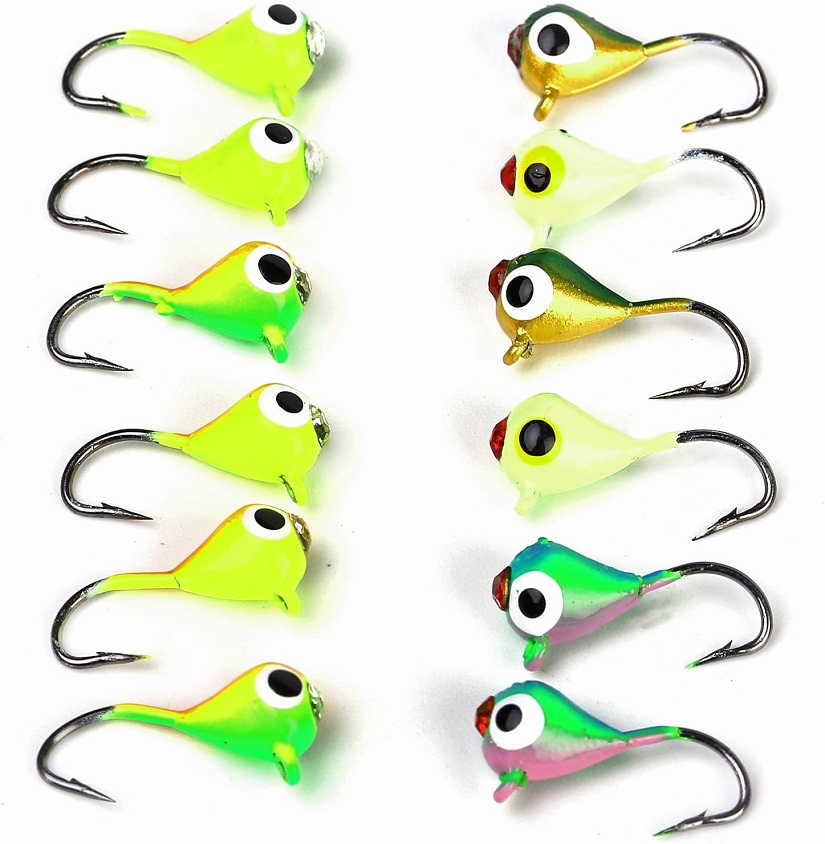 Sougayilang Ice Fishing Jigs
Pros:
Pack of 12 jigs makes it cost-effective. Optimized hook gap. Better penetration with chemically sharpened barbed hooks.
Cons:
There have been customer complaints about receiving half-finished jigs.
Final Word:
Favored by anglers as this jig holds up securely and good for crappies, bass, perch, panfish and bluegills.
The lures can be used plain or tipped with live or dead bait to attract fish. You need to tie your lure nicely to make it effective in water.