While spinning line into reel we have all experienced tangles, kinks, and twists. Having someone to hold your line as you are at the job causes frustration and inconvenience. Looking for an alternative method, we came across a device called the fishing line spooler that can take away some of the troubles associated with the spooling.
You may be skeptical about this product if you are an experienced angler who is at ease with the conventional method. Let us assure you that we had the exact same thoughts! This is when we started looking at various products, their installation and user guides and decided to try some of the brands and review them.
Why Would You Use a Fishing Line Spooler
Makes spooling easy – even for beginners
Quick – If you have run out of your line, it allows you to replenish your spool fast
No twists, tangles, balls or kinks
Eliminates the need for extra hands to hold your line
Things to Consider Before Buying a Fishing Line Spooler
Mounting
Choose a spooler that is easy to mount and works on almost all surfaces. Also, it should mount securely. Commonly, the mounting is achieved by suctions cups, C clamps, rod clamps, reel seats and direct attachment to the rod or reel. While the suction cups are only for use on smooth surfaces, the clamps can be used on any surface provided you affix it to the edge of a table, desk, etc.
Capacity
It denotes the maximum width of the spool that can be accommodated by your spooling station. A typical spooler fits a width of 1.5 to 6 inches. If you like bigger spools then go for spoolers that have a larger capacity.
Tension Adjustments
You can be sure you landed a good product if it features line tension adjustors that are useful for preventing tangles, snags and backlash while casting. The ones that come with knobs to hold the feeder spools in place, allowing you to adjust the line tension, are the best of the lot. Those that come with spring-loaded tensioners also give you a tight spool while baitcasting, conventional and fly reeling.
Reel Type
Before buying a line spooler for yourself, it is important to check the reel type that it uses. There are the multipurpose ones that can work with baitcasting, trolling, fly and spinning reels. Others are reel specific.
Material
Get a spooler that is strong and durable but lightweight, adding to its portability and functionality. You can go for ones made of stainless steel, aluminum or high-quality composite fiber.
5 of the Best Fishing Line Spoolers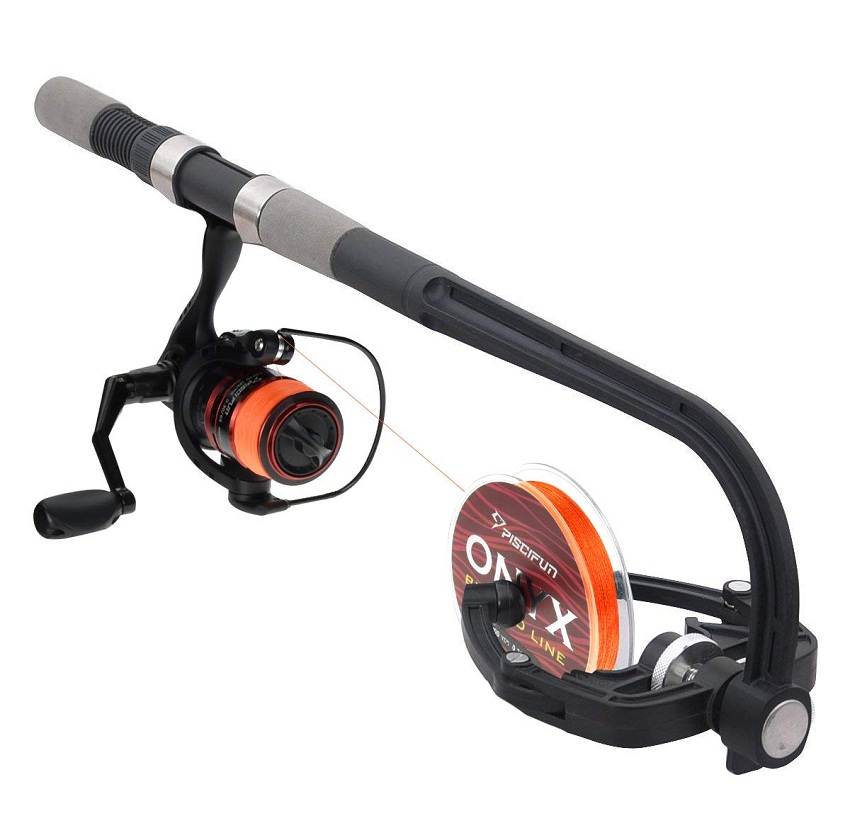 Piscifun Professional Fishing Line Winder Spooler
Pros:
This well-engineered tool is lightweight, portable and compact. It can work with both narrow and wide spools. The width of the bushing makes it suitable for string spools (mono, fluoro or braid) that have smaller central holes. The crowning spooler is compatible with all types of fishing reels such as spinning, baitcasting and trolling reels.
Cons:
It can burn a hole in your pocket.
Final Word:
If you want to go for a line spooler that is of high quality, durable and easy to use, this one would perfectly fit the bill.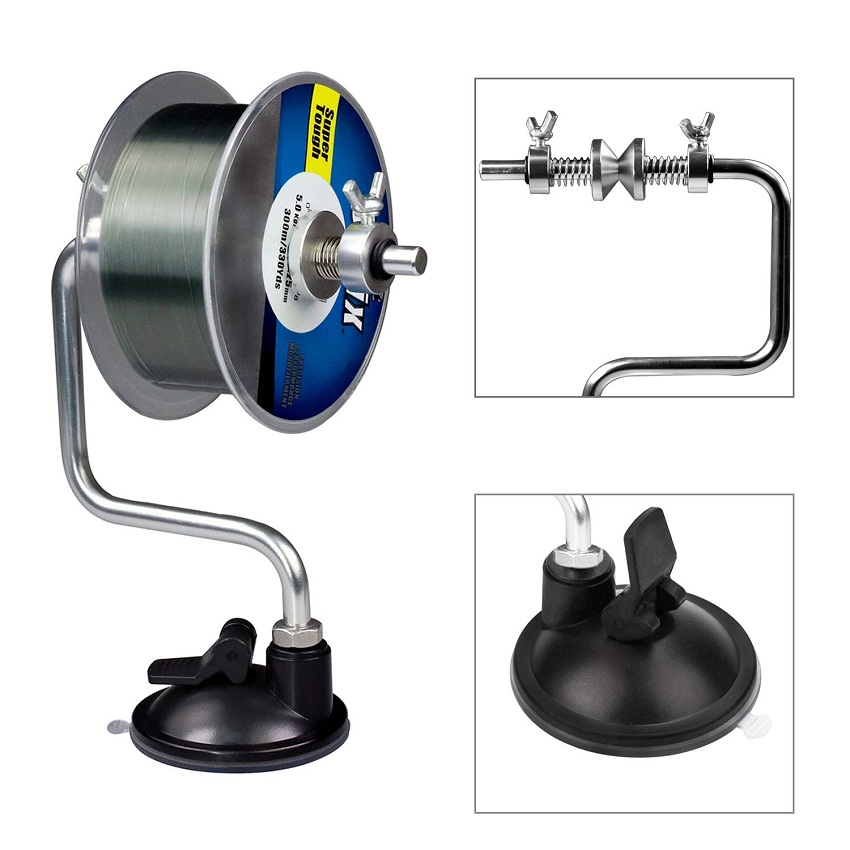 thkfish Fishing Spooler with Suction Cup
Pros:
Having an adjustable design, this pocket-friendly spooler ensures that your line is tight. You can even customize the tightness with the help of the adjustable clamps and fastening springs. The suction cup base is strong and does a good job of holding the device securely. The spool holder can be rotated in any direction without causing any line twist.
Cons:
If it's not a smooth surface that you are setting the spooler up on, the suction cup won't work.
Final Word:
If you are looking for a reasonably priced line spooler that has a simple installation process, is easy to remove, lightweight, portable and compact, look no further.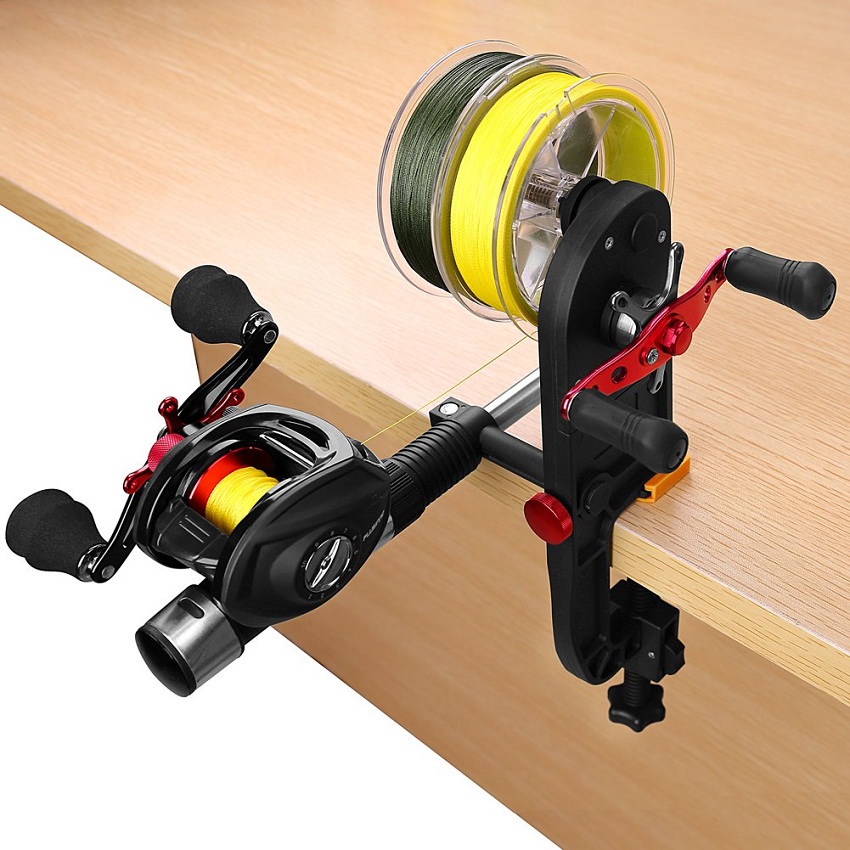 PLUSINNO Fishing Line Spooler
Pros:
It is suitable for spinning, trolling and baitcasting reels. Made of an aluminum and stainless steel blend, this one is lightweight but super strong. It can function in two ways, one allows you to transfer the line from the spool to the fishing reel and another enables you to put the line from the fishing reel into an empty spool. A handy set of accessories accompany the spooler.
Cons:
It is not suitable for heavy fishing lines and large saltwater reels.
Final Word:
This spooler gets a thumbs up for its compact size, durability, versatility, ease of switching lines and a simple assembling process. However, If you like saltwater fishing, this one is not for you.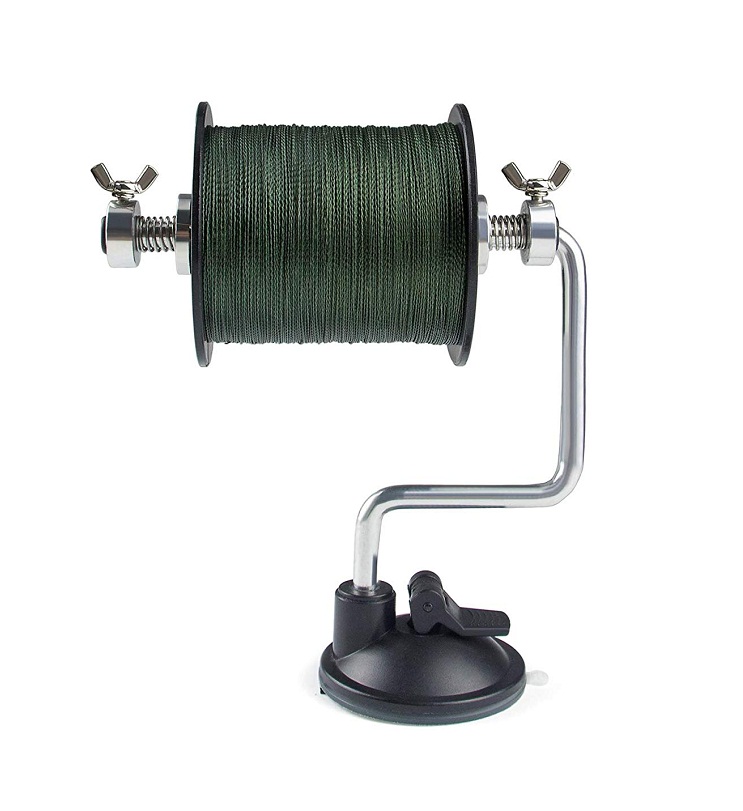 Booms Fishing Line Spooler – Adjustable for Varying Spool Sizes
Pros:
This line spooling station can house multiple reels and holds on to the spool securely. It is equipped with tough, high capacity spring-loaded tensioners. The bracket open side ensures the line comes off the spool in the same direction as the reel turns. Its ability to work with filler spools, quarter spools or any other small spool gives it an edge over the others.
Cons:
The suction cup base, though strong, limits its use to smooth surfaces like glass, flat tabletop, etc.
Final Word:
You can go for this one due to its affordability, multi-reel capacity and adjustable line disc size.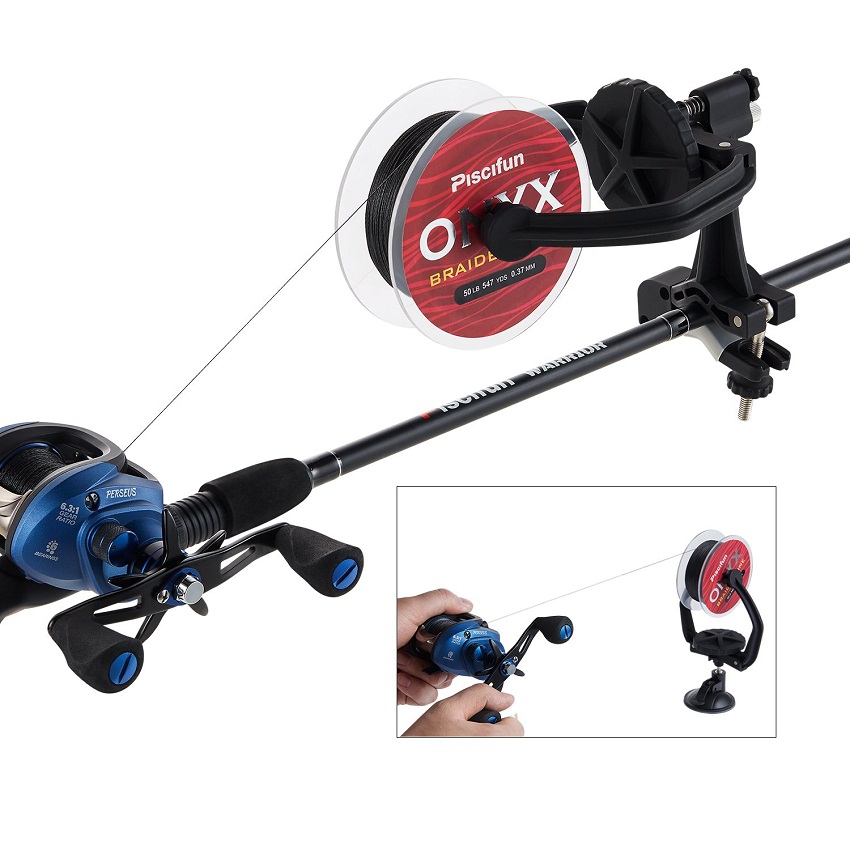 Piscifun EZ Portable Fishing Line Spooler
Pros:
This easy to assemble and disassemble fishing gear offers you two ways to spool your line. If you assemble with the sucker, you can spool on any smooth surface and if you assemble with the rod clip, you can directly spool the reel on the rod, spending less time on winding. You can be sure of zero line twists when using this spooler that suits trolling, spinning and baitcasting reels.
Cons:
Though it works with almost all sizes of fluorocarbon and mono lines, it poses a problem with the uncommon sizes of braided lines. The high price is also a flip side.
Final Word:
It scores for its versatility, durability, lightness, compact size and easy, quick re-spooling. The ease of spooling your line all by yourself and adaptability to both large and small spools give you value for money.
A carefully chosen fishing line spooler can be a useful companion to both novice and professional fishermen making their fishing outings a memorable experience. Equipped with one of these, you can keep your spooling hassle-free, independent and neat.