Though knot tying skills are essential when you are out fishing, the conditions might not be in your favor at all times. There may be low light, the boat may be rocking in choppy waters or your hands may shiver due to the cold. Old age and arthritis could further impair your knot tying abilities. Enter the knot tying tool that smoothens the process for you and can do a lot more.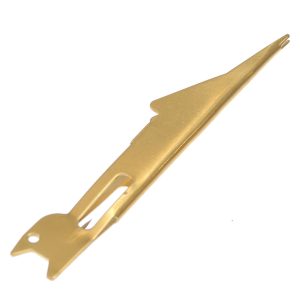 Things to Consider Before Buying a Fishing Knot Tool
Size
The size of the tackle that you will be working with is important to take into consideration while buying a fishing knot tying tool. Most knot tying tools suit small-medium sized hooks. If you want something more powerful, you can go for the models that are designed for larger hooks and tackle suited for bigger fish. There are also models designed for smaller hooks that work well with the compact jigs used by ice fishermen and smaller flies.
Knots It Can Tie
There are some tying tools that are versatile and suit a large variety of knots. However, there are also models that are knot specific. So it is important to check your tool for the recommended knots before buying as once out fishing, you may need to tie knots that are different than the ones your device can tie.
Safety
The tool should keep your hands safe while tying the knot around a barbed hook. It should allow you good control when handling your hooks.
Durability
Choose a knot tool that is made from high quality material that is durable. It should be able to withstand accidental falls and wet conditions.
Cost
The cost is an important factor in deciding this fishing gear. The nice thing is, most of them are very reasonably priced but good at their job. If you want to go for something costly, then it should yield a better catch. If it isn't that effective, then it's not worth the extra bucks. Note that no knot tying tool would cost you as much as your fishing rod.
Extra Features
Some of the tools come with additional features to make your fishing smooth and easy. They are not the mere knot tying devices.
They can come with loops that help you attach the tool to your clothes and prevent you from losing them.
Hook covers allow you to clamp the hook within a protective cover as you tie the knot. They safeguard your hand from accidental injuries and help in transporting your hooks.
Get rid of excess lines with a handy line cutter.
Other features are the fish hook remover and the hook eye cleaner.
5 Of the Best Fishing Knot Tying Tools
Top Pick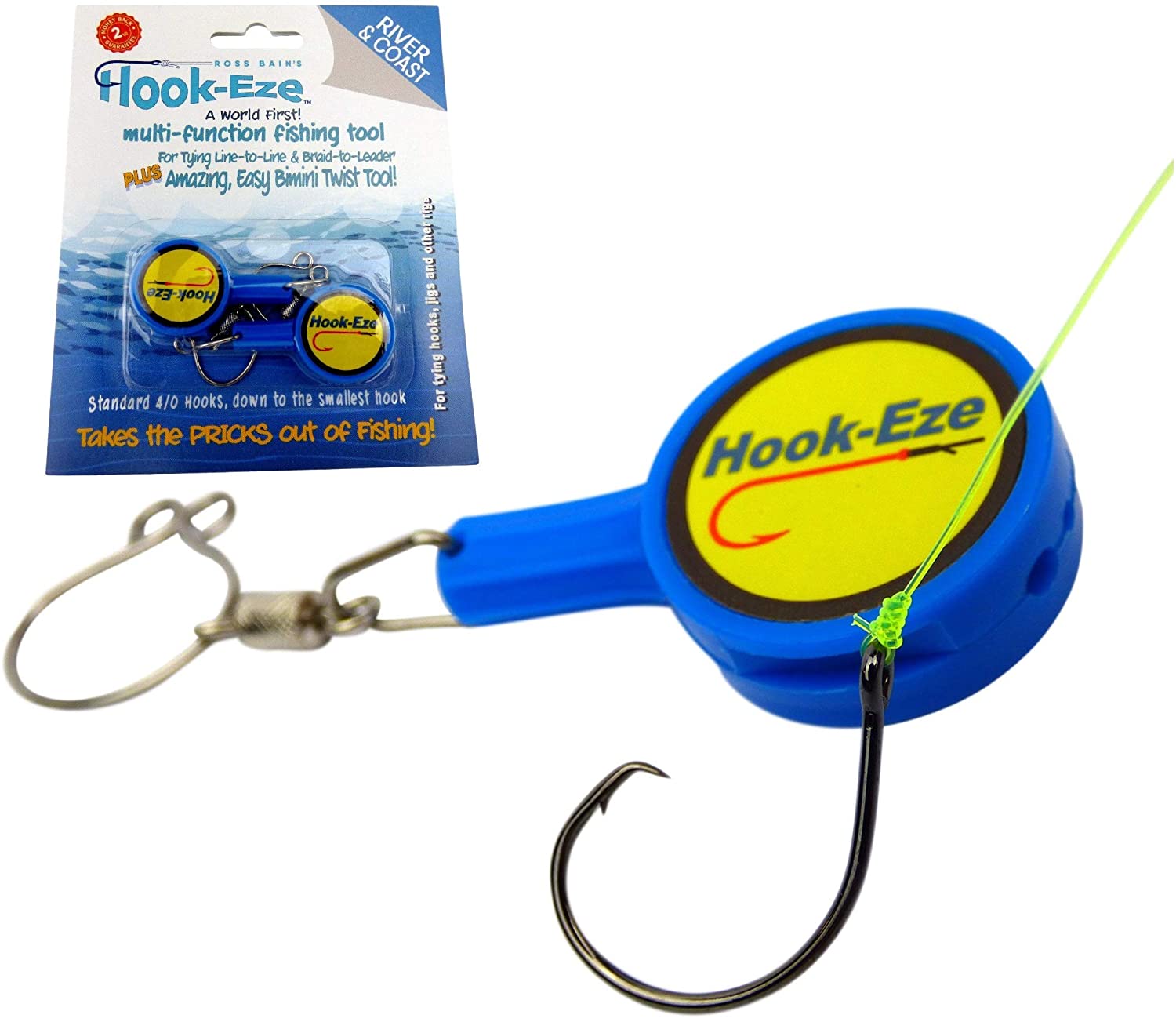 HOOK-EZE Fishing Gear Knot Tying Tool – for Kids and Adults
Pros:
Ties jig heads, lures or rigs, speed clips and swivels easily. Works with a wide range of hook sizes and all types of fishing lines. Has a built-in line cutter and doubles up as a hook cover for safe transportation of poles that are fully rigged.
Cons:
Instructions for use are not easily comprehendible. The price is on the higher side.
Final Word:
Allows experienced anglers tie knots fast while beginners would find it safe and easy to operate.
SAMSFX Fishing Quick Knot Tying Tool
Pros:
Multi-functioning tool that can make loops, tighten knots, snip lines, etc. The compact size makes it easy to store and use anywhere. Durable stainless steel build with rubber grip. An optional retractor helps attaching it to your jacket. Knot tying instructions are included.
Cons:
Tends to slip with braided line. The cutters don't perform up to the mark.
Final Word:
Have been known to tie solid knots and works especially well with hook fishing rigs. Provides a lot of working space at the knot.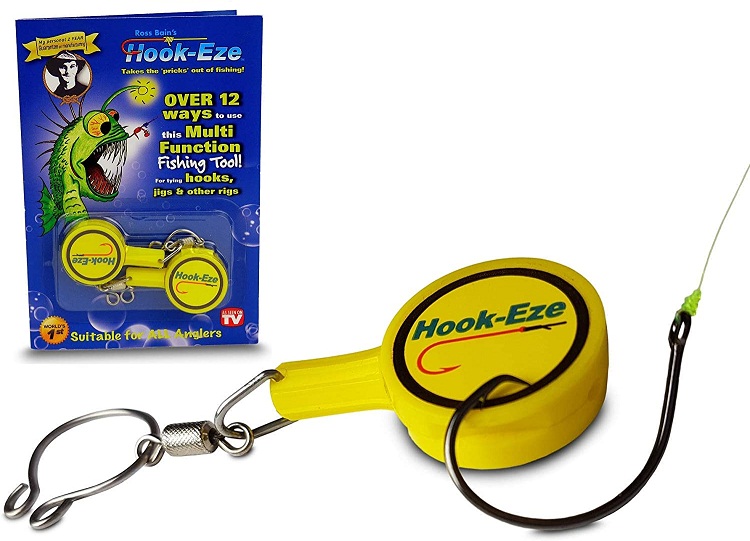 HOOK-EZE Fishing Gear Knot Tying Tool for Fishing Hooks – for Saltwater, Freshwater, Bass, Kayak, Ice Fishing
Pros:
Helps in tying jig heads, swivels, speed clips for attaching lures and rigs. The quick, safe and easy to operate tool is suitable for anglers of all ages and can be used for fly fishing. Numb and arthritic fingers find it comfortable to use.
Cons:
The opening and closing mechanism can be hard for kids. If you are wearing gloves or have big hands, you would find the o ring too small.
Final Word:
Since this one works well in cold weather conditions, you can definitely take it along for ice fishing. Has been known to be beginner friendly.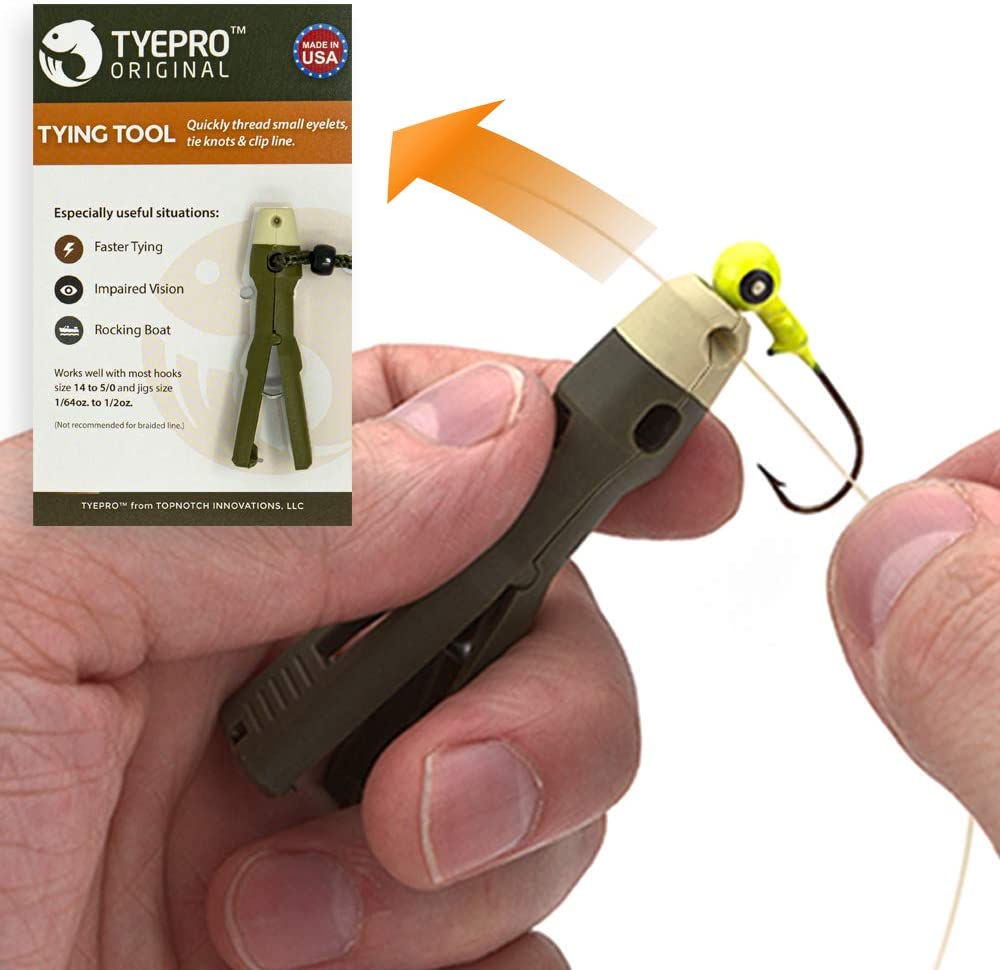 TYEPRO Fishing Knot Tying Tool
Pros:
Improves eyelet threading and ties jigs, lures and hooks. An o ring allows you to increase the clamping force when needed. Abrasion resistant. Spring loaded handle for a firm grip.
Cons:
Difficult to fully close the device when used with larger diameter eyelets. Expensive.
Final Word:
It is a beginner friendly gear that performs well with tackle used for bass, perch, walleye, catfish, crappie and other popular species. It is most suited ice fishing jigs and smaller flies.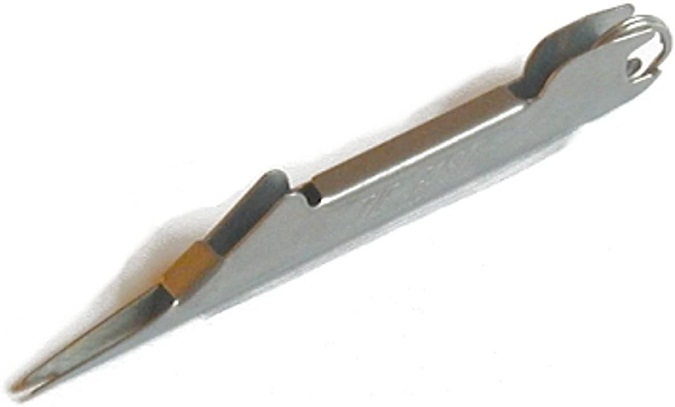 Tie-Fast Knot Tyer
Pros:
Made of durable stainless steel. Good for Snelling large hooks and swivels. Ties a variety of knots easily, securely and quickly.
Cons:
The model suits freshwater and lightweight lines, mainly. The enclosed knot tying instructions are not that helpful. People with large hands have found it difficult to work with.
Final Word:
Has earned the reputation of anglers for being a tool that can make strong knots simply. It specializes in the nail knot and needle nail knot.
With this handy tool in your kitty frustration and annoyance involving hook eye threading would easily be a thing of the past. Your vision and finger dexterity need not be at their peak to allow you have nice and strong knots that land you a large catch.