A fish stringer is a line of rope or a chain that is passed through fish to suspend them in a living condition in water. It keeps them fresh so that you can have tasty fish even after hours of fishing. They can be made of a variety of materials like stainless steel, plastic, nylon, paracord, etc.
How to Choose a Fish Stringer: Things to Keep In Mind
Stringer Type and the Kind Of Fishing You Will Do with Them
The rope stringer is standard and popular among anglers. It is made up of a needle attached to a rope with a ring at one end. Rope stringers are strong and suited for large game fish that can put up a big fight.
A chain stringer is nothing but a chain with multiple hooks fixed in it at definite lengths. It allows you to tag multiple fish in a row if you land a large bounty. Chain stringers are a reliable option if you intend to catch small fish like carps. However, the chain may snap if the fish are strong and can struggle a lot.
You can have another type of stringer, the spring lock models that are equipped with spring locks to keep the fish in place. They can be used for catching big and valiant fish like salmons.
If you like spearfishing, you can go for the fish hoop stringers.
Material
Common materials for the stringers are paracord, stainless steel, nylon and plastic.
Stainless steel stringers are strong, durable, don't rust and don't leave a metallic smell on your fish. If they are of the spring lock model, then nothing like it as they secure your fish nicely.
The plastic stringers are light and don't weigh down on the fish, allowing them to continue swimming. However, they don't last long, are brittle that can cause you to part with your precious catch.
Paracord stringers are strong and can also be used as survival tools.
The nylon ones, though sturdy, are a bit hard to maintain.
Ease of use
The rope stringers are the easiest to use whereas the chain and spring lock ones require a bit more effort in tagging and releasing fish.
Cost
Rope stringers come with a cheap price tag. Chain stringers too are reasonably priced except the stainless steel ones that are pricey. If you have a tight budget, go for plastic fish stringers.
4 of the Best Fish Stringers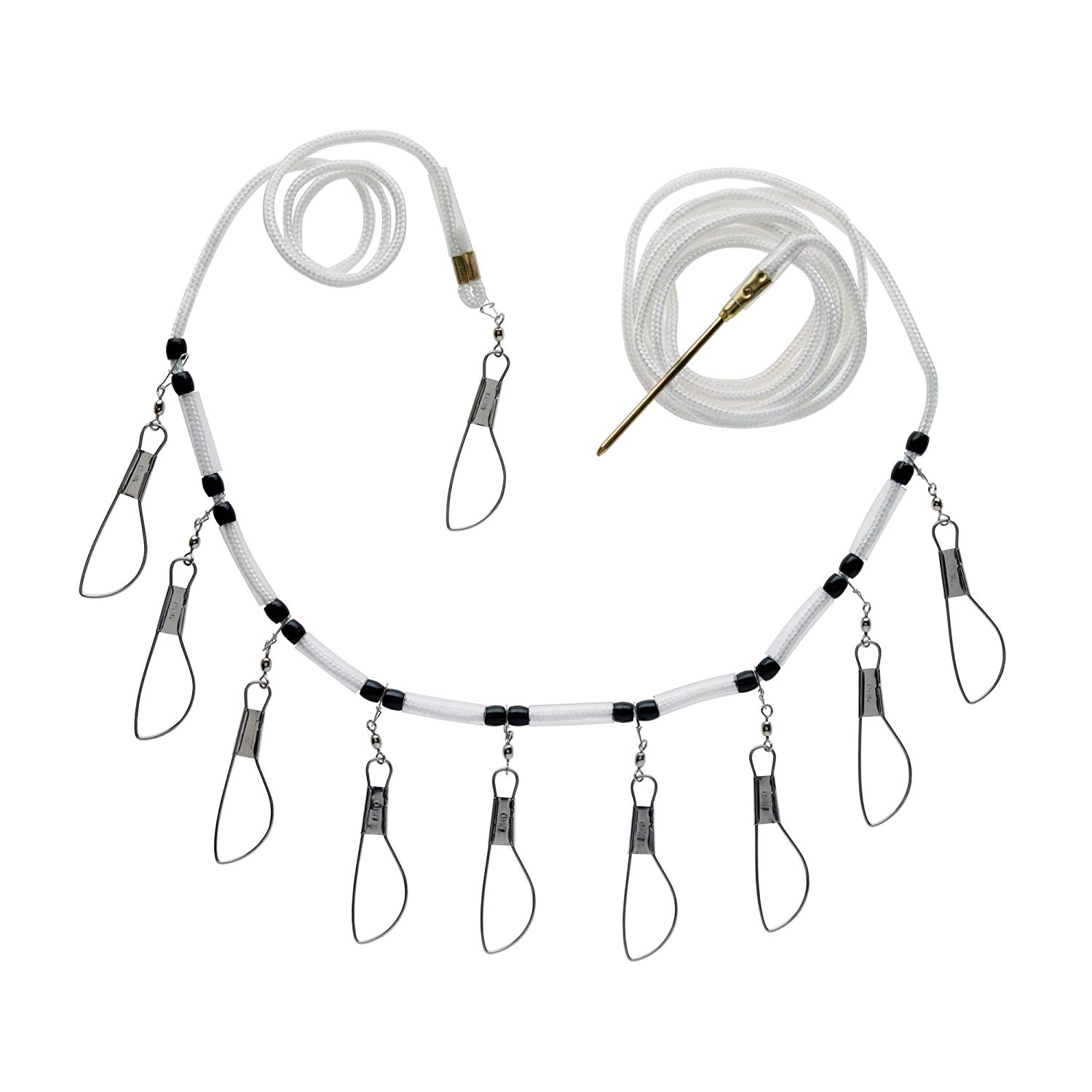 Berkley 15-Feet Deluxe Cord Stringer with SS S
Pros:
The braided heavy-duty nylon cable makes the stringer reliable and durable, even for a large catch like catfish. The stainless steel snaps are easy and quick to release and hold the fish securely. The tapered needle makes it simpleto pierce the fish. The plastic sleeves reduce the abrasion of the rope. It can be used in both freshwater and saltwater.
Cons:
If you keep the snaps open after taking out the fish, they can get tangled. The braiding could be tighter as it tends to open up after repeated use.The nylon gets soiled easily and the stringer is pricey.
Final Word:
You can go for this one due to its strength, length and ease of use if the price is not that much of a factor.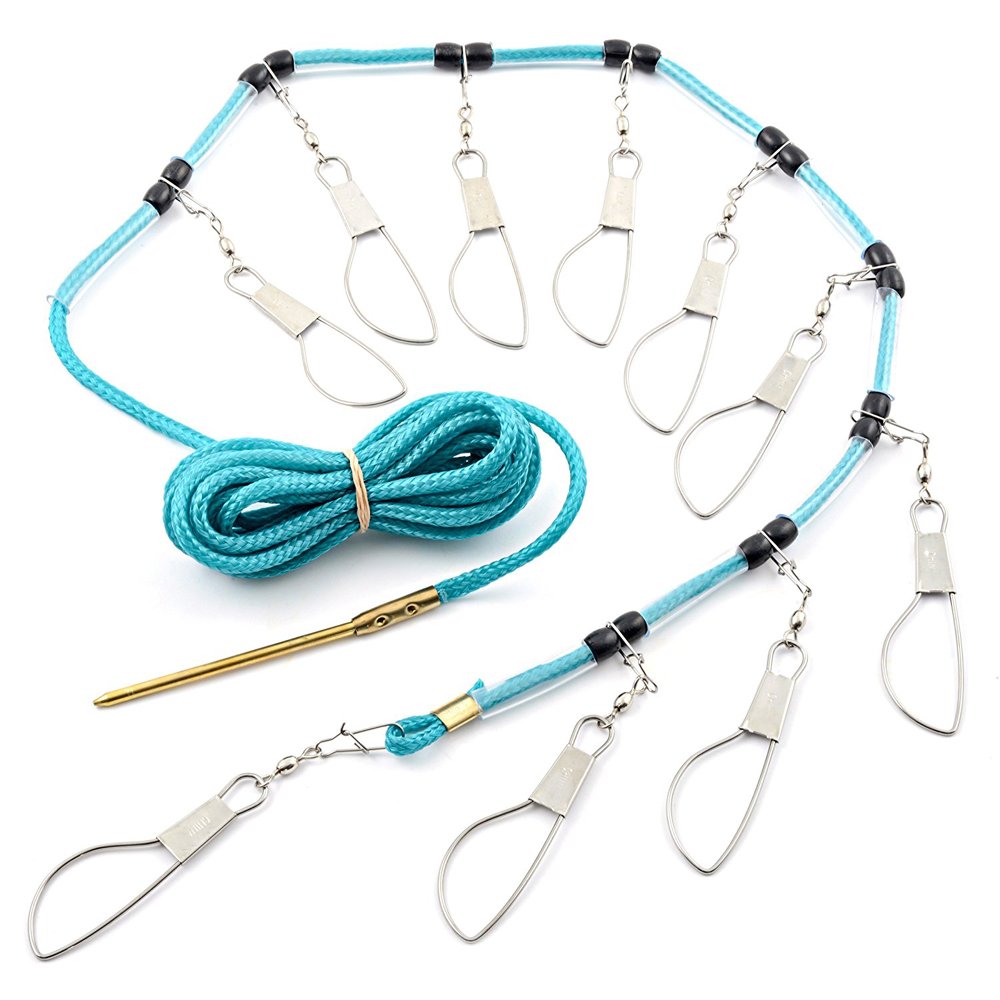 Hurricane Stringer with 10 Stainless Steel Snaps
Pros:
Good for saltwater fishing and reportedly performs well for trouts. The long length allows the fish to swim about even after being tagged. It has ample strength reducing the chances of breaking off when used with medium and small fish. Swivels on each snap prevent the fish from tangling with the stringer.
Cons:
It's not strong enough for large fish. The rope could be too long for small boats, especially if you are fishing close to the shore. The clips can spring open abruptly, freeing the fish, if you pull them too hard.
Final Word:
If you are looking for a long stringer that is easy to use and pocket-friendly, you can opt for this.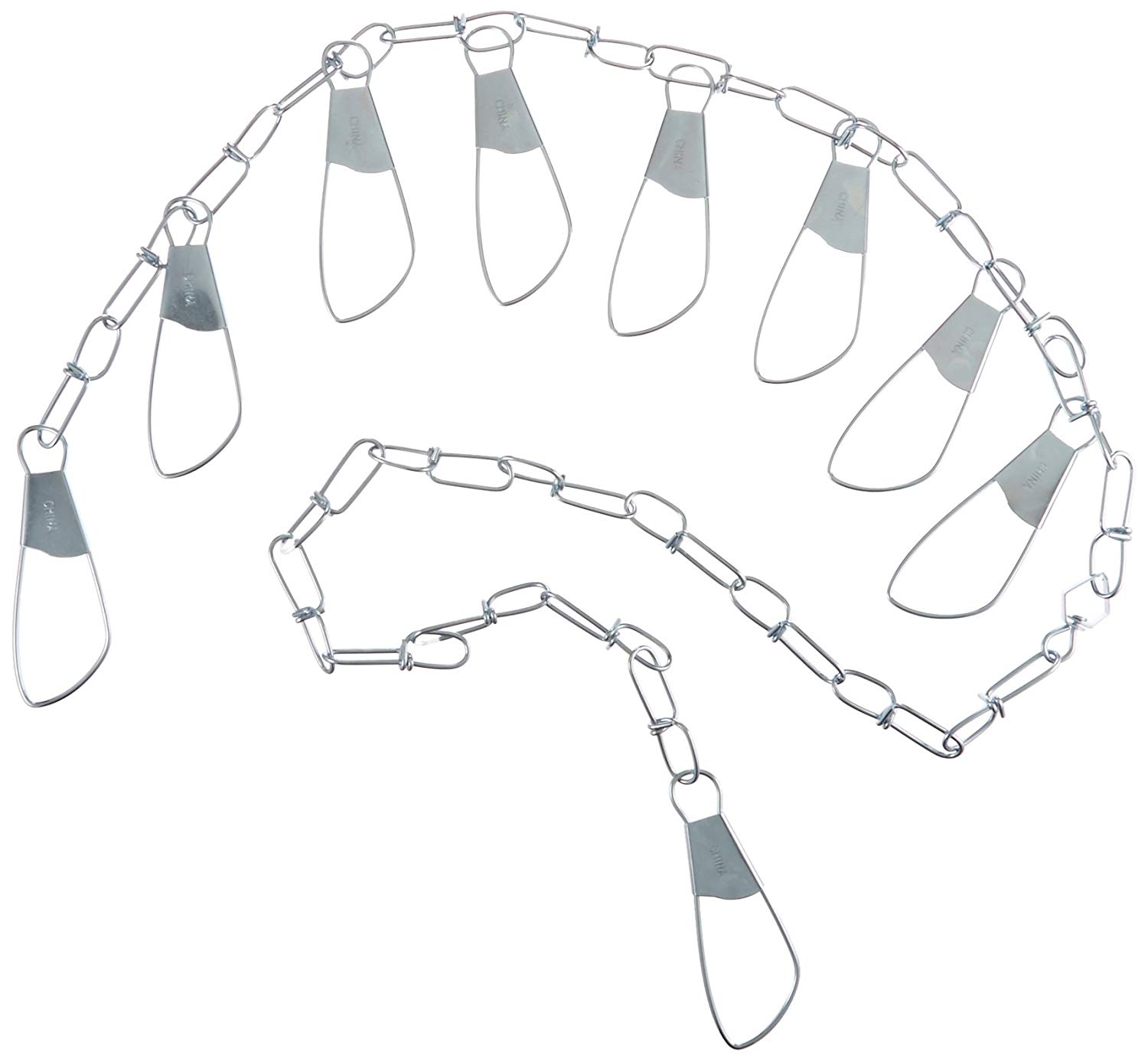 Eagle Claw 04300-005 Invincible Chain Stringer, 46-Inch, 9-Snap
Pros:
Apart from the 9 snap closures, it has snap closures at both the ends for easily connecting it to a boat or dock. It can be used in both saltwater and freshwater. Though a pretty simple and cheap model, it works well and lasts long. It allows you to unhook and clean each fish separately.
Cons:
The side shields of the clips are thin and not made of stainless steel, unlike the other parts of the stringer. This can be counted as a strength reducing factor. The clips are a bit difficult to undo with one hand which can cause inconvenience if it's cold outside.
Final Word:
Durability, sturdiness and reliability are the three things you can be sure of if you decide to go with this one. However, the promise of its performance with fish weighing more than 30 lb should be taken with a pinch of salt.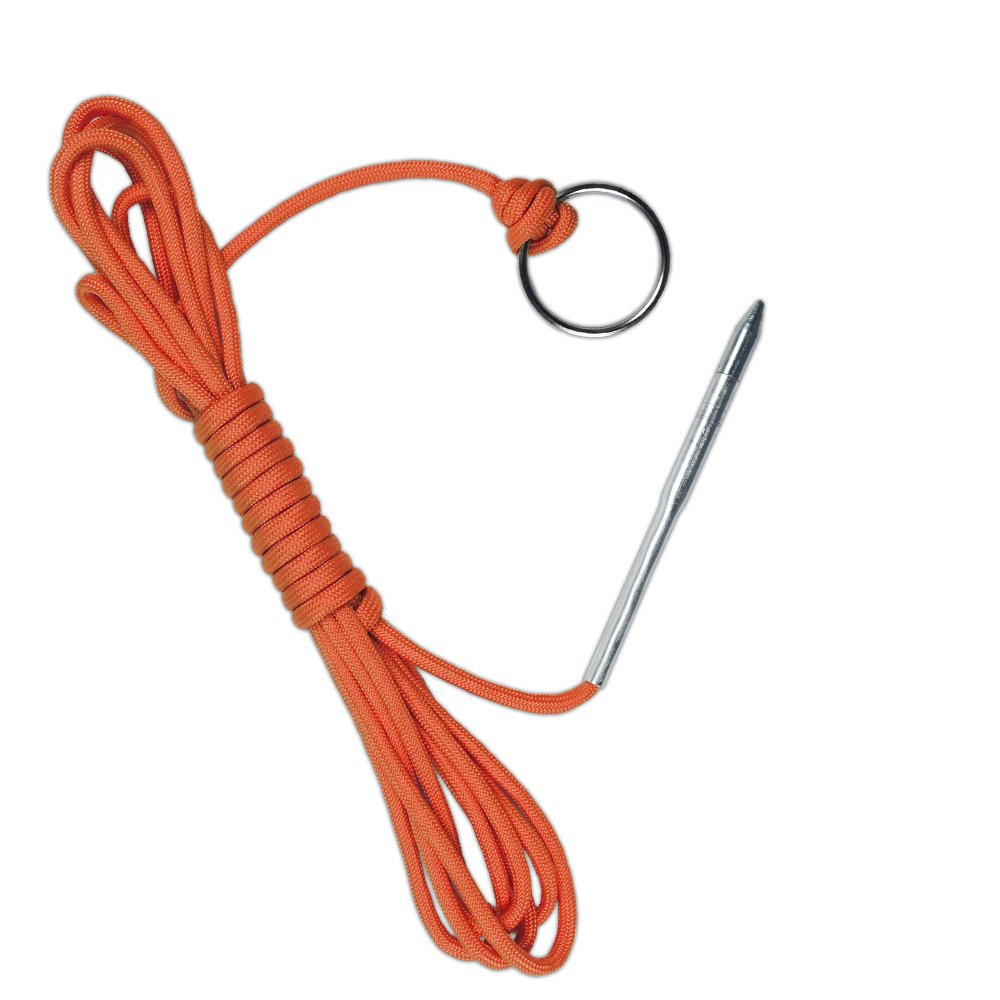 10 Foot 550lb Paracord Fishing Stringer Fish Holder with Metal Threading Needle and 1 Inch Split Ring
Pros:
The good length of the stringer helps in keeping all your fish together and tie your precious catch to your vessel. The tensile strength of the paracord material is appreciable and it can double up as a survival tool. It works especially well with game fish. Doesn't make much noise on hitting the boat or any other obstacle, scaring fish away, as is the case with the metallic stringers.
Cons:
The medium thickness of the ring could be a deterrent to its strength. Though amply durable, paracord is likely to wear out and unravel after long use.
Final Word:
If you love shore, river, and shallow water fishing, this stringer is for you. It helps you out with your anchoring needs if the bank is steep. It would be a good choice if you don't like any metallic clutter and want something soft.
How to Use a Fish Stringer
Fish Stringer Alternative
If you don't want to harm the fish in any way, you can use fish stringer baskets that don't need the catch to be pierced. They are standard baskets that float in water and store the fish in their natural environment. Fish stringer baskets are usually made from reeds that tend to rot over time. Though metallic ones are available, they rust.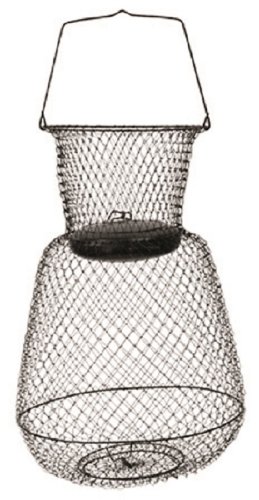 Eagle Claw Fish Basket
Pros:
Easy loading and unloading are provided by the spring-loaded trap doors at the top and bottom. The collapsible form of the basket adds to its portability. It is suitable for both saltwater and freshwater. Its large size endows it with a high storage capacity. The sturdy lid can keep the stringer afloat.
Cons:
The material of the basket gathers rust after some time. Also, it is difficult to make the lid stay open when you need time to take out big fish. Add to that, the fact that it burns a hole in your pocket.
Final Word:
Go for it if you don't like to pierce your fish and want to see them alive and fresh for hours. If you are thinking of getting children involved in the fishing, they would be happy with its ease of operation.
A fish stringer is a valuable addition to your tackle box that helps to keep your fish fresh and taste great on cooking. Choose one wisely so that your catch doesn't die or get lost underwater. The cost and material are also important aspects that need to be factored in before buying a fish stringer for yourself. Here's wishing you luck with your fishing.