Topwater fishing is essential to get hold of fish that are deeply embedded in vegetation or prowling the flats in shallow waters. However, it is a favorite with anglers due to the violent hits as well as the subtle gulps as fish bite into the lures. Since it is the topwater lures that make the strikes a sight to behold, it is important to choose them wisely. Below is a handy guide to help you land a product that would be a fun and useful companion to your topwater expeditions. They generally work with bass (striper, largemouth, smallmouth), redfish, walleye, panfish, pike, trout, crappie, etc.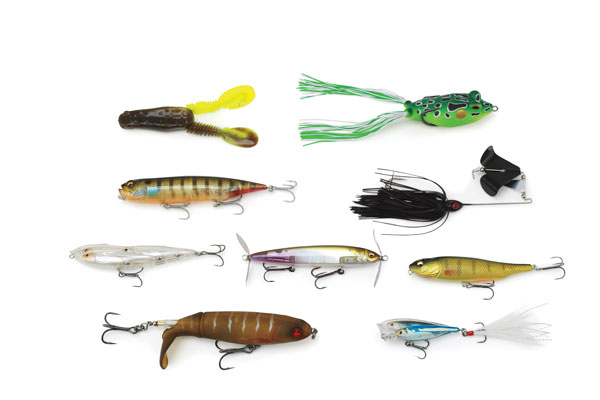 Things to Look Out For In Your Topwater Fishing Lures
Type
1. A buzz bait squeaks, sputters, spits and lifts on the surface, thanks to the triangular delta blade that it comes equipped with. It invokes an explosive reaction from the bass feeding along shallow covers. The majorly weedless design sees your fishing through thick and heavy brush.
2. A chugger or popper is nothing but a wooden or hard plastic plug having a flat or concave surface. It pops, splashes, and chugs when pulled suddenly and boasts of a motion that resembles prey thrashing on the surface. You can cast it accurately and it is a good option for target fishing.
3. As evident from the name, a walk-the-dog stick bait, popularly known as spook, entices fish with its walk-the-dog motion. With a body resembling a cigar, it can excellently mimic dying baitfish trying to get off the surface. Explosive fishing action from bass that are after minnows, follows.
4. Frogs that were just small players in the topwater lure arena until recently have gained favor among anglers for their ability to capture big fish. They attract bass hidden in heavy and dense vegetation. You can have hollow plastic ones or soft plastic replicas of toads.
Ease of Use
A topwater lure should be simple to fish with.
Buzz baits need to be cast and wound back in a way that it stays on the surface. It should run slowly and you should be able to drift it as close to the cover as possible.
A popper should be cast and the rod jerked with its tip down. You should give it short motions to make it pop and become susceptible to fish strikes.
Walk-the-dog stick baits are easy to learn and use, but retrieving them can be daunting. You need to long cast them and twitch the rod with tip down in a regular pattern. Then reel the slack to make it prance back and forth like it should.
Frogs are cast and then twitched back slowly to the boat, frequently pausing at points where fish are likely to be present. Being weedless, they can glide on the surface. But abrupt jerking after a blowup can make hook setting a challenge.
Color and Size
Some anglers opine that color has a small role to play in getting the fish who can only distinguish between a light and a dark shade. So they use only two colors of lures and rely more on the technique and performance. However, others think that colors are important, more so with easily spooked bass who look at the lure for 10-15 seconds. Your experience would dictate which side you take.
The smaller lures are favored earlier in the year when smaller shad fry and other forage rule the roost. At all other times, the larger ones are preferred.
Material
You can do your bit for the environment by choosing lures that are non-toxic to both the fish and the water. There are some rare, high-end lures that dissolve in water when left there for 12 hours in a rows. However, you don't have to go that far. Most topwater lures can be safely ingested by fish and eliminated when necessary.
Compatibility
Though it is hard to find a lure that is compatible with all species of fish, but with some efforts, you can get one that is suited to more than two types of fish families. It saves you money and space in your tackle box.
Price
It is a good idea to go with trusted brands that give you value for money. They produce lures that work with a variety of species and are ideal for not only shallow conditions but also pads and ponds that have a lot of vegetation. The paint quality is also good and doesn't come off after a few outings. You would be glad to find that most topwater lures are pocket friendly though made with top notch materials.
5 Of the Best Topwater Lures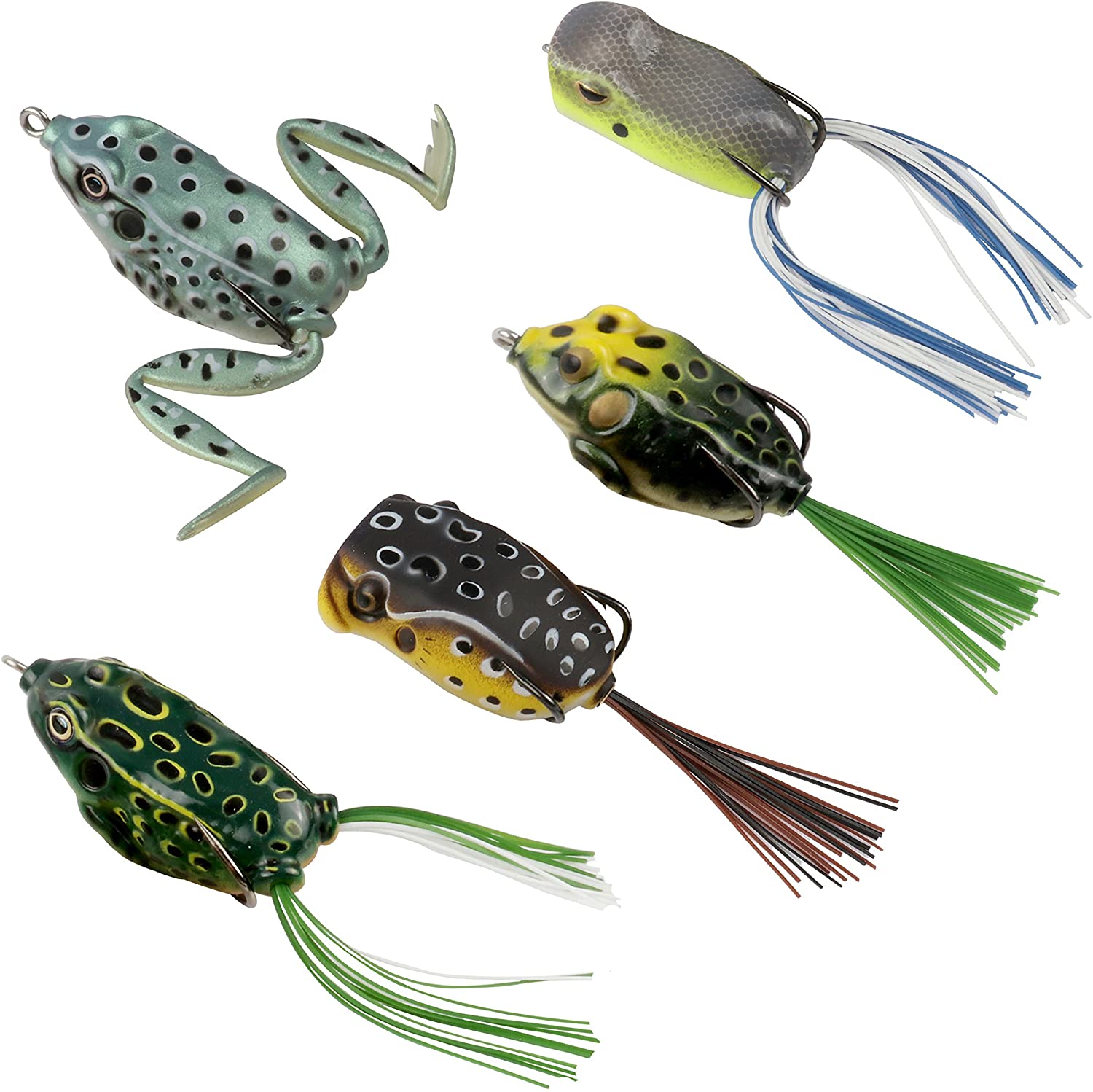 RUNCL Topwater Frog Lures
Pros:
Resembles an actual frog with its high resolution body design, 3D eyes and swimming action. Made with environment-friendly PVC. Tasting like a real frog, it hinders the fishing hook from getting spit. Comes in a set of 5 different frog lures placed inside a unique tackle box.
Cons:
The same belly color of all the frogs though their top colors are different. That is a downside as the belly is what the fish see. The hook gaps could be a bit wider.
Final Word:
If you have your eyes on a larger catch like musky, this one would get your back.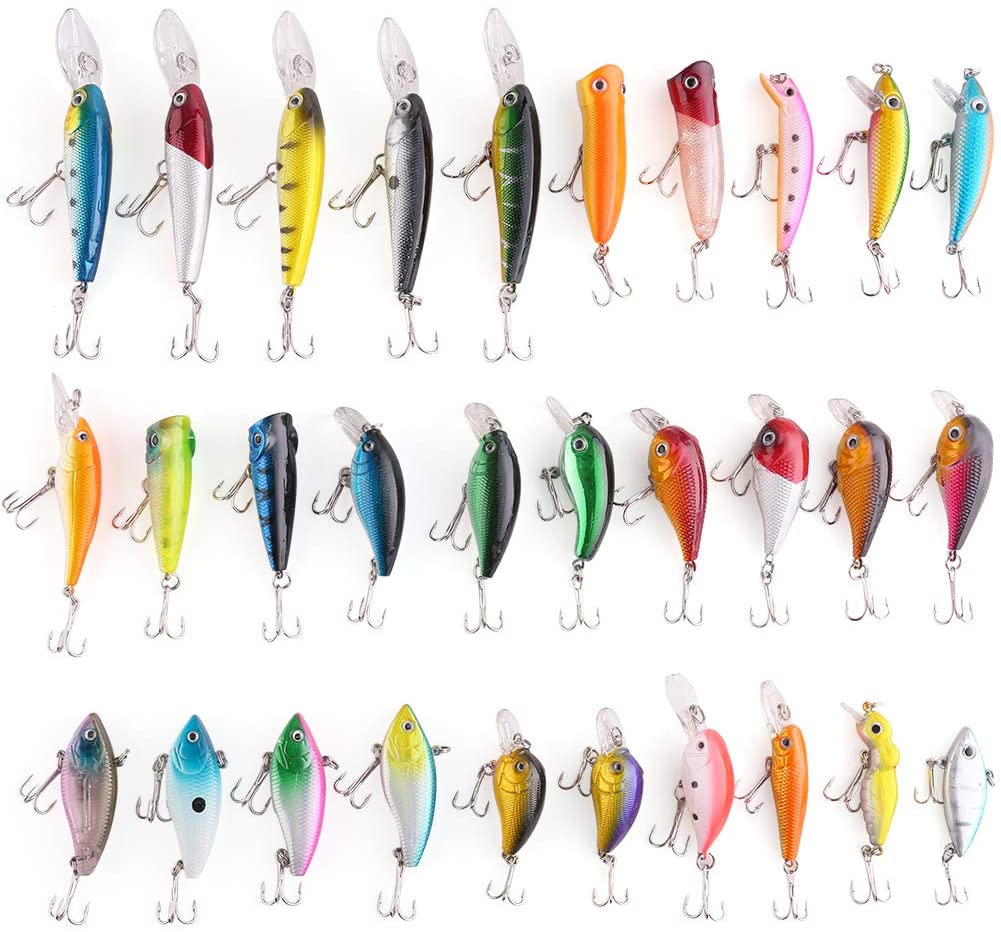 LotFancy Fishing Lures including Poppers and Crankbaits
Pros:
30 pieces of fishing lures with sizes ranging from 1.57 – 3.66 inches can attract a wide variety of fish. Sharp stainless steel hooks. The set includes minnows, poppers and crankbaits. Suitable for both freshwater and saltwater.
Cons:
Too light for baitcasters. The hooks could be sturdier.
Final Word:
The vivid colors of the life-like lures that are equipped with rattles attract bass, salmon, trout and walleye.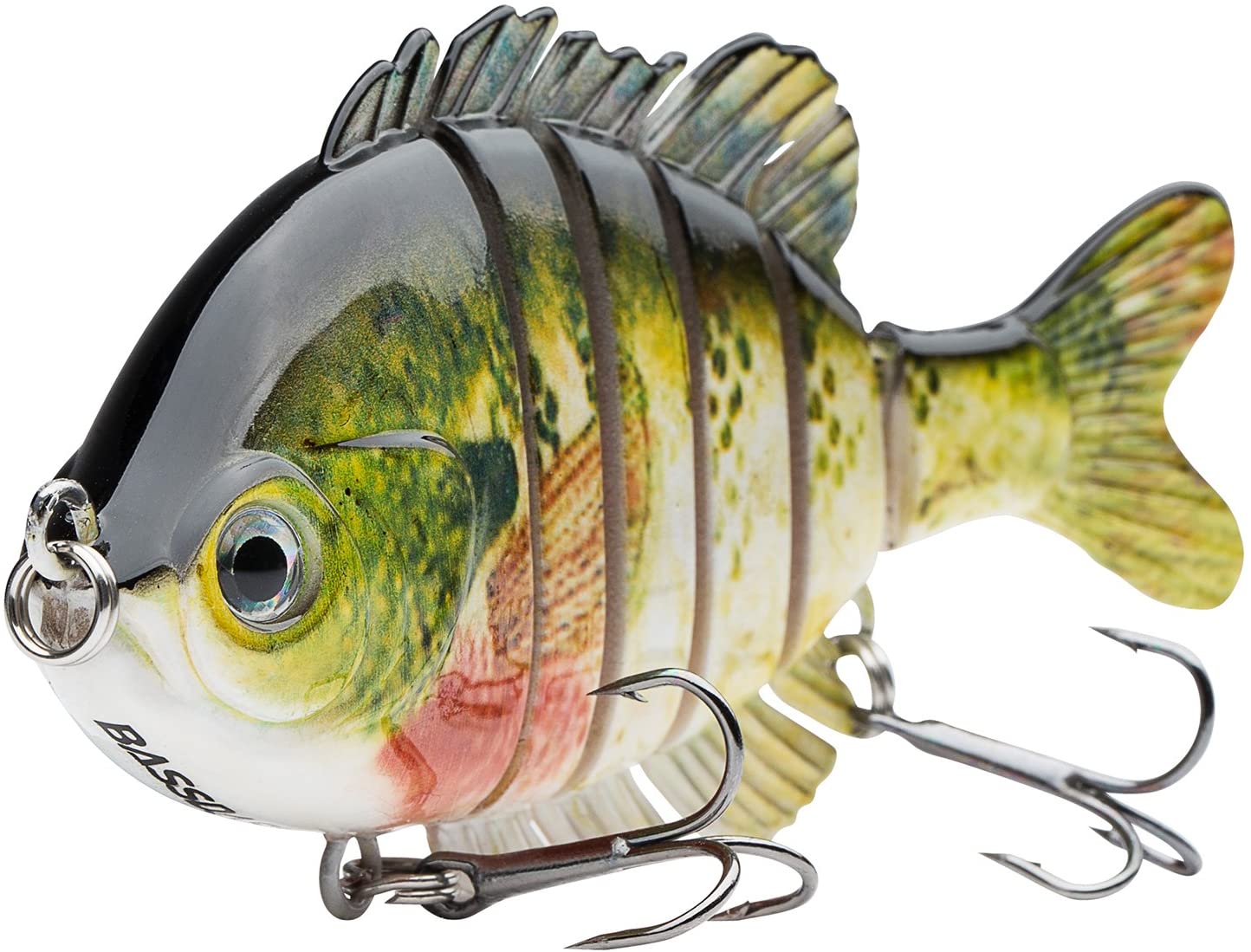 Bassdash Multi Jointed Bluegill Swimbaits, Topwater Bass Lures
Pros:
High quality ABS material resists the wear and tear invoked by fighting fish. Works with topwater depth of 1-3 feet. The multiple sections keep the fish hooked even during the fight by eliminating the leverage they gain while trying to shake off full body lures.
Cons:
Being heavier than its competitors, some have complained that it doesn't stay afloat for long. You need to retrieve it really fast or it won't swim as desired.
Final Word:
If you can maintain a good retrieving speed, this lure can perform well with both large and small fish.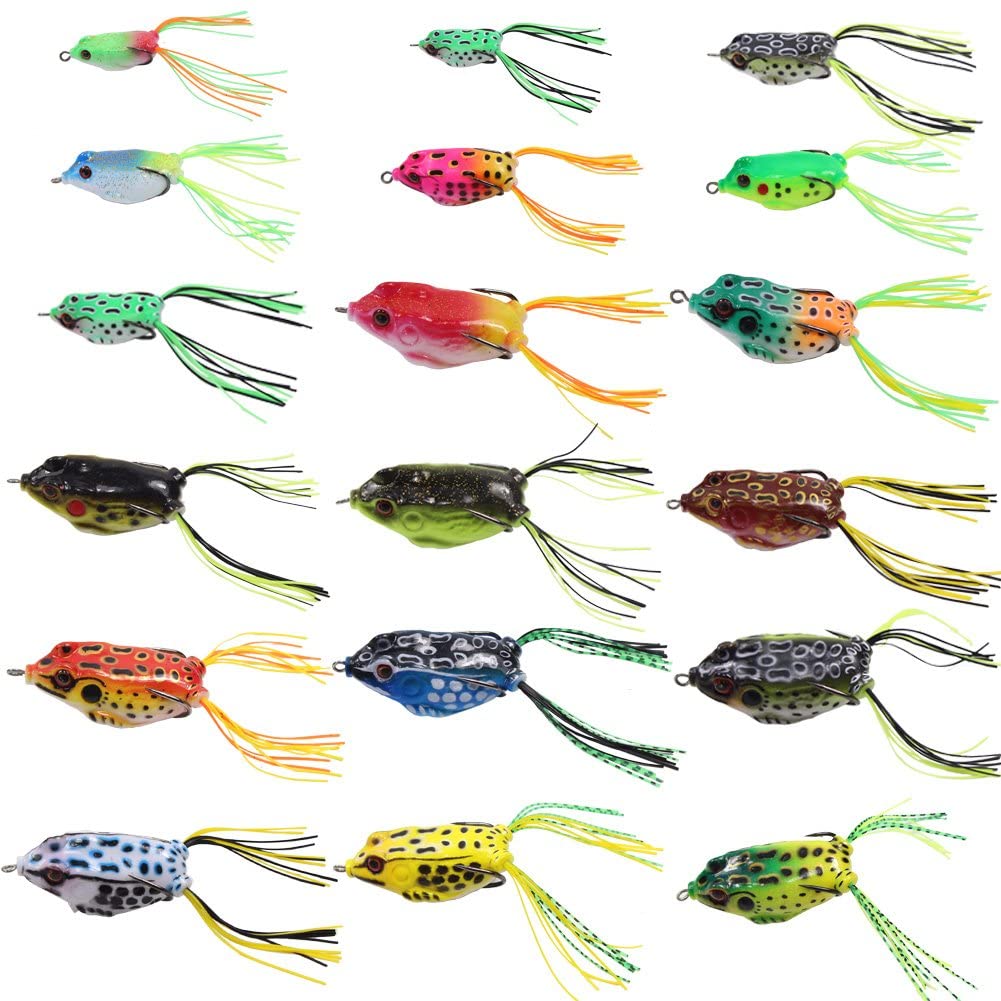 Croch Hollow Body Frog Lure Kit
Pros:
Super soft and elastic build. The strong and sharp hooks do a great job of holding on to the fish. Works in weed choked areas and lily pads without a snag.
Cons:
When hammered by a fish, the skirted legs tend to slip and slide. The body is not firm and easily rotates around the hook.
Final Word:
The realistic frog-like body design and motion makes it irresistible to fish. Boasts of solid hookups.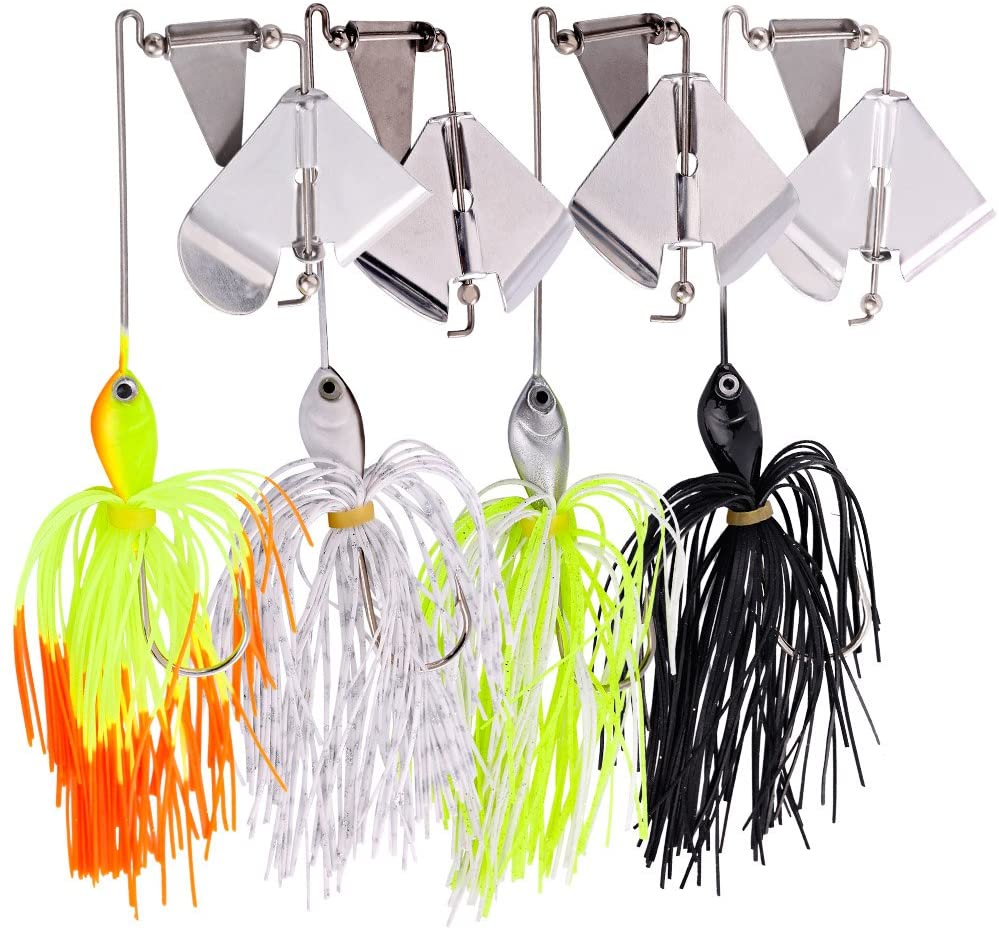 Sougayilang Buzzbait Fishing Lures
Pros:
Comes in 4 different colors with silicone skirts, 3D eyes and high quality hooks. Can be used as a search tool while fishing in unfamiliar waters. Creates a unique sound that attracts bass located several feet away, even around heavy cover.
Cons:
Some have found the strands of the skirts to be too sparse to stay put on jig heads. The metal wire of the prop is too long. The rubber band used in securing the skirt to the bait tells on the durability of the product.
Final Word:
Though found to be efficient in procuring a decent catch with their speed, the design could have been improved.
We are sure that the guide and the top rated products would help you in making an informed decision while making a buy. Here's wishing you luck with the only form of fishing where you get to see your fish attack your lure. And what a sight! It would make you come back to it again and again.